Eid-ul-Adha, also called Bakri Eid, signifies the spirit of sacrifice on the 10th day of the month Dhu al-Hijjah, which is the last month of the Islamic calendar. The Muslim community not only celebrate the festival by sacrificing an animal and distributing the meat among its members and needy people, but also they invite people from other religion as well to celebrate it together. Most of us wait for this festival to relish some delicious red meat delicacies and aromatic traditional desserts. 
Read More: Satisfy Your Taste Buds With Garhwali & Kumaoni Dishes Of Uttarakhand
This year, as the crescent moon for Zul Hijjah month, was sighted on July 11 in the evening, Bakri Eid will be celebrated on July 21 worldwide, except Saudi Arabia where it would be observed a day earlier.
To mark the day, people prepare some delicious traditional dishes to celebrate the Bakri Eid. Some of the recipes of the dishes are given below:
Mutton Biriyani 
Eid celebrations remain incomplete if we do not make a few dishes. Mutton biriyani is certainly one of them.
Take a bowl and make marination by adding very finely chopped onions, ginger-garlic paste, coriander powder, red chilli powder, garam masala, lime juice, yogurt and salt to the mutton pieces, and leave it in the refrigerator for at least 6 hours or overnight
Next, wash and soak basmati rice in water for 30-60 minutes
Boil whole spices of black cardamom, green cardamom, black peppercorn, cinnamon, cloves, fennel seeds with water, and leave for 20 minutes and then strain
Place ghee in a pan and add the rice. Cook it till rice becomes opaque white
Crush and include 2 saffron strands along with the flavoured water
Once the rice is boiled, switch off the flame and allow the rice to rest for 5 minutes or so
Take another large heavy-bottomed pan and add ghee. Then add chopped onions and saute them.
Add the marinated mutton to the pan and stir and cook it for a few minutes. Simmer it for half an hour after placing a lid
Take a pot and start layering. Place some rice and then add in some of the mutton pieces. Keep repeating it and end the layering with rice, putting saffron mixed warm milk, Kewra water, onions dip-fried in oil (beresta) on top
Next, cover with a lid and seal the vessel with a wheat flour dough around the lid and cook the biriyani on low flame for an hour
Break the seal and serve the mutton biriyani along with raita
Haleem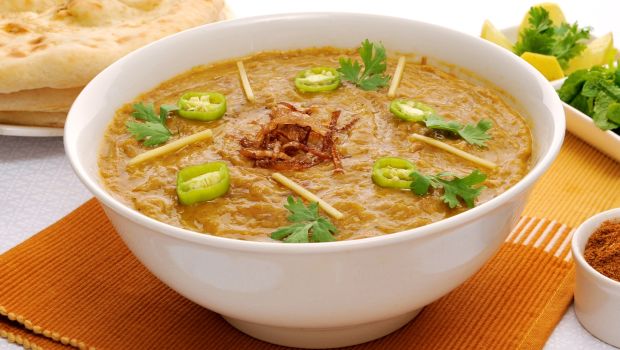 Start by washing and soaking the broken wheat or Dalia for half an hour
Then trim the boneless mutton if there's any excess fat and add the mutton to a pressure cooker with a cup of water. Cook it on medium flame
Meanwhile, prepare beresta (golden brown onions) and set aside
Add in ginger-garlic paste, red chilli powder, garam masala, turmeric powder and salt to the mutton. Cook the mixture in the pressure cooker for 8-10 minutes and then simmer it for another 15 to 20 minutes. Cool it down and shred the mutton.
Boil the broken wheat along with chana, urad and yellow moong dal along with ginger-garlic paste, chillies, black peppercorns, turmeric powder in water and cook it until the water is completely absorbed. Then blend this mix for a few seconds
Heat oil in another pan, and add cinnamon stick, cardamom, cloves, green chillies, freshly chopped coriander along with shredded mutton. Mix it well and then add curd and saute for 10-15 minutes. Add water and boil it
Lastly, add in blended Dalia and dal mixture, and mix well while adding ghee
Let it simmer and cook slowly for at least 30-60 minutes on low flame
Garnish it with fried golden-brown onions, cashews, lemon wedges and some fresh coriander leaves, and serve the haleem
Sheer Khurma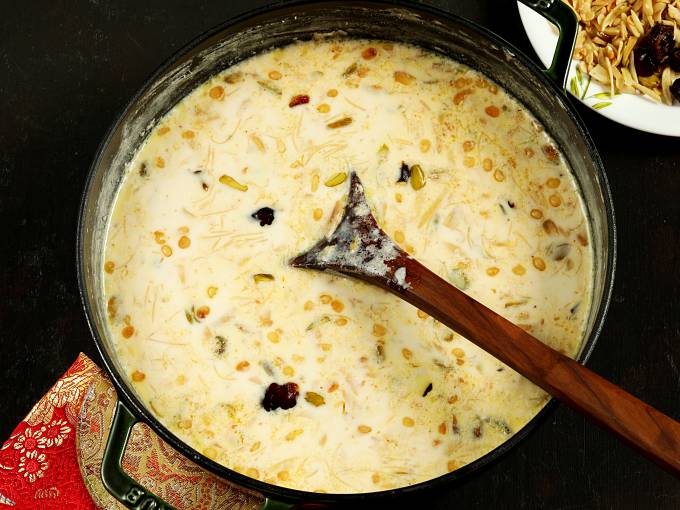 Sheer Khurma loosely means 'milk with dates'. It's a popular vermicelli pudding, prepared using whole milk, sugar, dates and dry fruits.
In a pan, simmer milk until it thickens to the consistency of cream
Add in vermicelli, sugar, cardamom, dates, raisins and almonds
Boil and simmer it for at least 5 minutes
Next, add in Vetiver and transfer to a serving bowl
Garnish Sheer Khurma with silver leaves and some raisins and chopped almonds
Serve it hot or refrigerate it for a few hours and enjoy the cold version of Sheer Khurma