These days we only have a few Indian filmmakers, who enjoy immense respect among the film fraternity like noted director Buddhadeb Dasgupta. With his demise yesterday owing to a kidney ailment, the film industry, as well as the audience, lost another gem.
However, the twice national-award-winning director has left an indelible impact on the audience with his mastery of the craft. With a unique style of storytelling blended with the rhythm and imagery of poetry, he experimented with both form and content. Buddhadeb, the master storyteller had an interesting take on the current scenario of Indian cinema, especially the influence of mainstream films and big producers. In short, he is truly one of those rare filmmakers who loved cinema, instead of the superficial aspects like star cast and commerce.
We've curated five of Buddhadeb Dasgupta's best feature films that should not be missed at any cost:
Tahader Katha (Their Story)
Buddhadeb Dasgupta's highly-acclaimed 1992 film, Tahader Katha tells the story of a freedom fighter, Sibnath, played by Mithun Chakraborty, belonging to the Indian independence movement. Tahader Katha starts when Shibnath is released from prison after 11 years of incarceration for murdering a British officer. His journey home along with one of his comrades, Bipin Gupta (Dipankar De) is composed of trademark Buddhadeb shots, including long shots of men and the rural Bengal landscape. In the film, Shibnath experiences the consequences of the Partition of India with his own family turning refugees and village now becoming a part of East Pakistan, a separate nation. However, his family now shifts to rural Bengal with the help of Bipin.
In a few minutes, the storyteller in Buddhadeb takes you to the deepest, darkest corners of his lead character's mind, while showing you how the trauma has affected him both physically and mentally which is done with a satirical tone.
Bagh Bahadur (The Tiger Man)
Produced in 1989, Bagh Bahadur fetched him a National Film Award with a career-defining performance by Pawan Malhotra (AKA Ghunuram in the film), who plays a "bahurupee" (which is a traditional rural Bengal dance form) dancer. He paints himself as a tiger and dances in a village of Bengal, however, he is challenged when a traveling circus with a newly-captured leopard comes to his village. The film conveys a strong message as Buddhadeb skilfully handles themes of displacement and loneliness, depicting the hardships of rural village life in Bengal.
Charachar (Shelter of the Wings)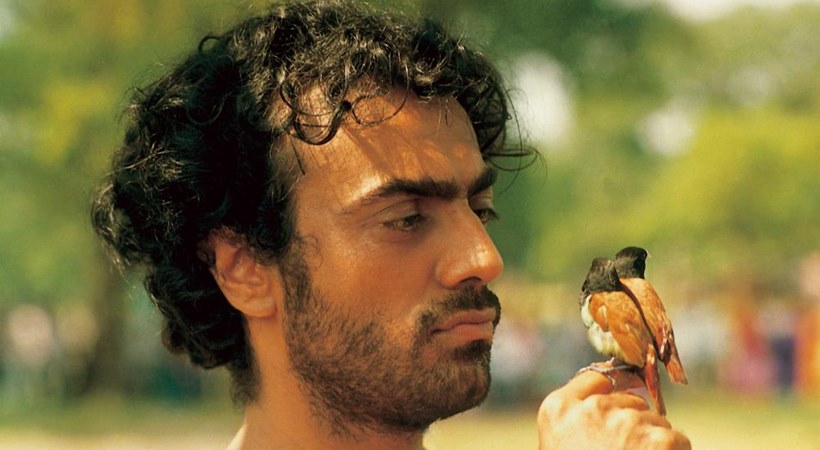 In this film, the protagonist who is a poet becomes a bird-catcher. This 1993 film by Buddhadeb Dasgupta adapted from Prafulla Roy's novel revolves around a bird-catcher named Lakha (Rajit Kapoor) who is driven by great empathy for the creatures he traps. Sari, Lakha's wife complains because he refuses to involve in worldly matters. Charachar is perhaps one of Buddhadeb Dasgupta's most poetic films. However, he makes sure that we connect with its premise and get comforted by its sense of timelessness.
Uttara (The Wrestlers)
Uttara, filled with symbolism, is probably one the most evocative films of the 20th century. At one level, the 2000 thriller contrasts violence, human vices, and lawlessness in a peaceful setting of a village in Purulia, West Bengal. As Uttara talks about fundamentalism and how it spreads its tentacles in society, it received its share of controversies. However, the film is much more than that as it portrays a bond between two wrestlers which is challenged when a woman appears in their lives. Not only Buddhadeb won the National Film Awards for Best Direction but also the film got wide appreciation.
Mondo Meyer Upakhyan (A Tale of a Naughty Girl)
Set in a brothel, Mondo Meyer Upakhyan, a film developed in 2002, tells the story of Lati, played by Samata Das, whose mother Rajani (Rituparna Sengupta) is a sex worker, who runs a brothel in rural India for a living. The tale of Lati and Rajani unfolds in a finely etched, familiar world even though they are dominated by magical yet unsettling dream logic. Hence, this film is a perfect example of the undiluted magic-realism style of Buddhadeb's later films.
Read More: Turtles Can Fly