The most common street food in India, Pani Puri or Fuchka or Gupchup or Golgappa is loved by most of us. Some of us cannot resist savouring those tangy and spicy water-filled balls one after another when we come across a street vendor selling Golgappa. When we approach a vendor to serve us Pani Puri, either he asks us about our preferred chutney or the ball-shaped puri (sooji or atta balls), or we simply instruct him to make aloo filled spicy combo, containing tamarind or pudina-flavoured water, etc.
The ideal picture of Golgappa happens to be a round or a ball-shaped, hollow puri filled with a mixture of flavoured tamarind or mint leaves-based water complemented by tamarind chutney, chili powder, chaat masala, potato mash or cubes, onion, and chickpeas.
Fuchka, on the other hand, is different in terms of content and taste from Pani Puri as it uses mashed potatoes mixed with several spices like cumin/coriander powder, red chilli powder, chaat masala, green chilli, onion, lime juice, and coriander leaves.
Be it Panipuri, Fuchka, Golgappa or Gupchup, the basic idea of the snack remains the same. However, Indians have enriched taste buds that lead them to experiment with food. Thus, Pani Puri is no exception. Here are three bizarre Golgappa recipes:
Butter Chicken Golgappa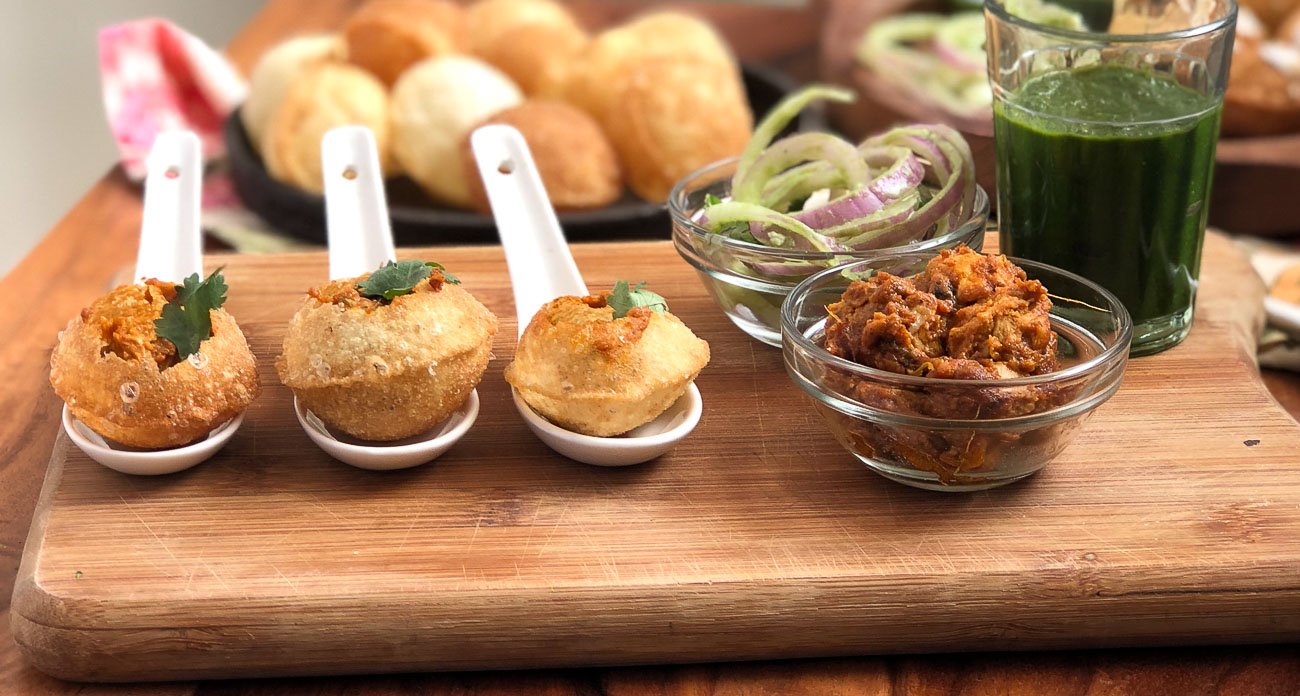 How would it taste if someone ditched the regular potato and spiced water filling and replaced it with Butter chicken? It may taste yuck but sounds interesting. Recently, netizens have created a fuzz over the experiment of adding butter chicken instead of potato filling to Golgappa and shared mixed feelings about the dish on Twitter. If you haven't tried it out at home, below is the recipe.
Once that is made, shred the chicken and mix well with the gravy.
Next, stuff it inside the Golgappa balls. Add in some mint chutney and onion. You may grate some cheese from the top to make it more luscious. Then take a shot.
Baked Pizza Golgappa 
Some are so creative that they keep coming up with the idea of making Pizza Golgappa. Here's the recipe for Baked Pizza Golgappa.
Start by preparing the pan. Take salt and spread it evenly into the pan.
Erect a stand onto it and close the lid of the pan. Pre-heat it on a medium flame for 8-10 minutes.
To make the stuffing, take another pan and heat it. Add in oil.
Once the oil is hot enough add in chopped onion, red bell pepper, yellow bell pepper, capsicum, boiled sweet corn kernels and paneer slices. Sauté the veggies.
Sprinkle salt and take it off from the flame. Let it cool for some time.
Grate mozzarella cheese over it and add pizza sauce and red chilli flakes to the stuffing. Mix everything well. 
To stuff the Golgappa gently bore a tiny hole and add the ingredients into the balls. 
Top the balls with mozzarella cheese and olives. 
Next, bake them for 5-6 minutes in a banking tin by placing them above the pre-heated pan. 
Garnish them with chilli flakes and pizza seasoning before serving them hot. 
Chocolate Pani Puri 
Another off-beat Pani Puri recipe, Chocolate Golgappa can be irresistible for people with a sweet tooth. Try out the following recipe to indulge in a luscious dessert that might sound uncanny yet tastes top-notch.
Place a bowl and combine roughly chopped dark chocolate and milk. Put it in the microwave for 30 seconds.
Take it out and blend it in a mixer grinder until smooth.
Next, take some melted chocolate and stuff it into a plain pani puri after making a small hole in the centre. Coat the Pani Puri well with the melted chocolate.
Transfer the Puris on parchment paper. Add colorful sprinkles on the top and then let it freeze for at least 15 mins.
Once the chocolate puris are made, start covering 1/3 of them with choco chips and tutti-frutti. Add in some melted milk chocolate.
Finally, your chocolate pani puris are ready to relish.