As a Delhiite, it never satisfies you when your stomach is full of tasty food from the lanes of Chandni Chawk, but you crave more. Each time you visit Old Delhi as a foodie, you discover at least one hidden treasure for sure. However, for food lovers around the world, Chandni Chawk becomes a mandatory place to visit in Delhi. When you enter the lanes around Jama Masjid, you get the intoxicating aroma of food that breathes life into the locality.
Read More: Chole Bhature: A famous North Indian dish becoming popular even down South
Here are some food joints you cannot miss tasting their world-famous flavourful cuisines if you explore Delhi for the first time.
Kake Di Hatti
An iconic eatery, Kake Di Hatti has been serving authentic North Indian food for more than seven decades. Famous for Paranthas, this food joint offers mammoth paranthas fried in ghee. Its menu includes paneer parantha, tandoor parantha, garlic parantha, cheese capsicum onion parantha, to name a few. Kake Di Hatti also serves dishes such as Kadhai Paneer with a dollop of butter, malai kofta curry etc. You can have a meal here at Rs 200 per person.
Aslam Chicken
When you visit Chandni Chawk or Jama Masjid, you cannot miss an opportunity to have a quick meal of Aslam's signature dish, butter chicken, along with rumali roti. As the delicacies are loaded with butter, when you have a bite of rumali roti dipped in the white gravy of butter chicken, it pleases your taste buds differently. Besides, this food joint has also been serving other chicken items like roasted chicken dipped in a green chutney paste and a whole serving spoon of butter. You will also get to taste fish tikka here. So, if you're a non-vegetarian, do explore this food joint. It will cost you around Rs 350 for two people.
Karim's
The lane behind Jama Masjid is quite known, and it has been continuing a legacy for over 100 years. As famous for its mutton burra, nihari, kebabs, chicken delicacies, and biriyani items, Karim creates its own spices and serves Mughal cuisine. With several branches across Delhi, it unarguably is the city's most famous culinary destination. It has also expanded its business by opening an outlet in Bengaluru in April 2021.
Ashok Chaat Corner
Located in Hauz Qazi Chowk, this chaat shop has been serving bhalla papdi, golgappa, dahi bhalla etc., for over 100 years. Its famous kalmi vada, kaccha aloo, and chutney make a plate of chaat more flavourful. In short, it's a hidden gem in Chandni Chawk. You can treat your taste buds in the evenings at Rs 100 per person.
Old Famous Jalebi Wala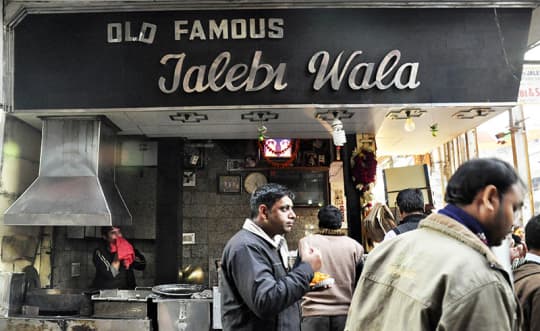 Situated right in the middle of Chadni Chawk, it's the best place for those who have sweet tooth and love jalebis. The jalebis they offer are crispy and highly irresistible that are deep-fried in ghee; hence they suggest having it immediately with hot rabri instead of taking it home and then have it. It serves samosas too. You can get one kg of jalebis at around Rs 250.