Most people prefer to visit tourist attractions in their leisure time and occasionally ditch the routine life's monotony. At the same time, some like to travel, not as a tourist, but when they feel bored living and being stuck in one place. Such travellers are often found to go on hiking, trekking or simply adventure destinations. There are quite a few fantastic places for adventure trips in India worth visiting to try out some coolest adventure sports.  
Read More: Transform Your Holiday Into A "Run" Destination
Roopkund Trek, Uttarakhand
If you have already summited Sandhakphu and now confident enough to push yourself for a moderate-difficult trek, pick Roopkund. Heaven for trekkers, but with a horrific twist when you head out to the glacial Roopkund lake. As you keep trailing forward, you will come across hundreds of human skeletons scattered, especially near the edge of the lake. That's why they say 'walking with the dead'. With many treks in Uttarakhand, Roopkund is a must-try adventure destination for those who love going on trekking.
Bike Touring, Simla-Spiti-Leh
Adventure gets redefined each time there is a conscious nagging of accepting a challenge. Riding a bike in testing weather conditions and exhausting roads gives a tickling sensation of adventure, and no route could be better than Shimla-Spiti-Leh. This long mesmerising stretch witnesses the changing panoramas from Himachal to Ladakh. The countryside of Himachal Pradesh to Ladakh looks heavenly wonderful when it is leisurely filled with thrill. The valleys seem more admirable and the locals more friendly with brighter colours of nature. You could either plan your tour itinerary with friends or can join any motorcycle expedition.
Caving, Meghalaya  
Caving is one of the best adventure sports in India; Meghalaya boasts of the largest network of caves found on the Indian sub-continent, stretching over three hundred kilometres. Nestled between the waterfalls and green forests, Meghalaya caves will definitely enthral you if you like to be close to nature. So, pack your rucksack as you would need a lot of stuff alongside some food in these remote caves.
Water Rappelling, Thane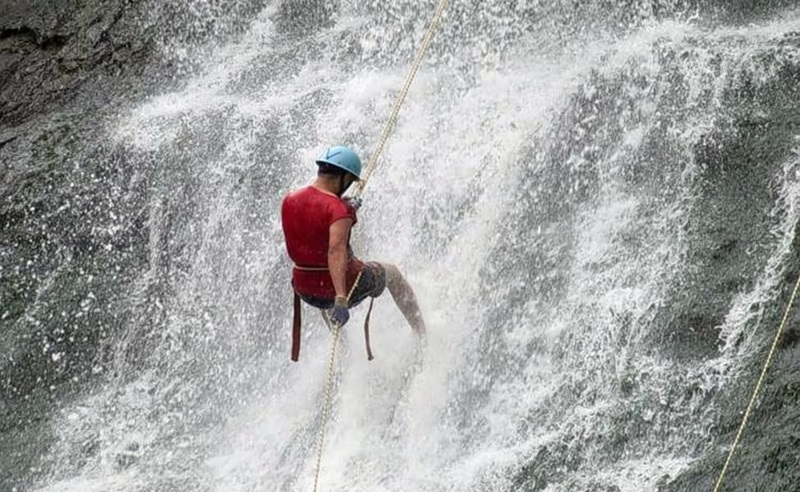 If you're good at rock climbing, you will love water rappelling at Kasara near Thane to climb down the waterfall. This is undoubtedly a magical experience and an excellent gig for adventure lovers, especially water sports lovers. It's a must-try adventure activity if you not hydrophobic or Acrophobic.
Flyboarding, Goa  
Goa is famous for its beaches, and people often visit it to get themselves relaxed. As there are so many beaches in Goa, it offers some must-try water sports as well. Therefore, Goa is considered one of the best places to try out water sports in India. As water sports have taken a huge leap here with the launch of globally popular 'flyboarding', it's now available in Goa. So, when you visit Goa, do not miss to go for this fascinating water sport.