While talking about grandmothers, the first thing that comes to our mind is age. And with this, we often, unconsciously, judge their capabilities and thought process of doing certain things.
As we age, our skeletal muscles are prone to wither and weaken, known as sarcopenia that begins to show up around the age of 40 and stimulates after 75. It is considered one of the major causes of disability among elderly people. However, by practising physical activity or doing active exercise these age-related muscle problems can be kept at bay. Moreover, the exact opposite occurs if and when diseases linked with aging comes into the picture.
Likewise, we've curated some grannies who have recently gone viral on social media for being libertarian and breaking the stereotypes set by society. Some of them were spotted, lifting dumbbells and bowling perfectly in a saree. Meet these inspiring grandmas for whom age is just a number.
Kiran Bai- a gym enthusiast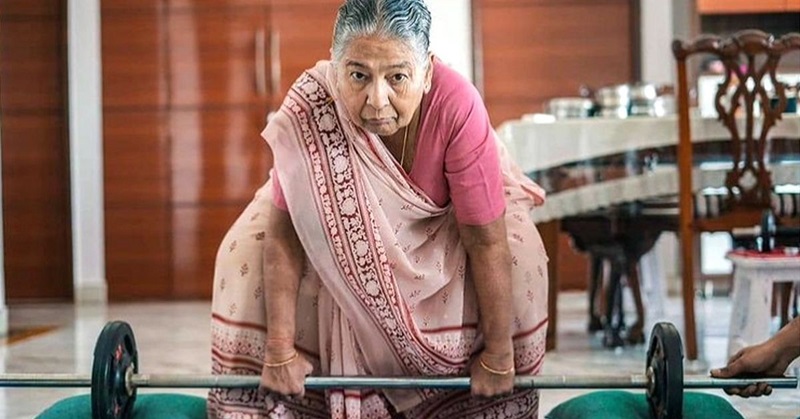 When we hear the word 'gym', we get visuals of cardio as well as weightlifting gear and machines lying on the floor. While some prefer to stick to cardio and light-weight training, some are fascinated with heavy dumbbells. Those who are into powerlifting, cannot skip deadlifting as it is an effective way of gaining lean muscles. However, an 83-year-old lady, Kiran Bai has changed this perception when her video went viral on social media platforms. In the video, she was spotted effortlessly deadlifting 25kgs for two reps while draped in a saree. Kiran Bai, who was always active in sports since her childhood, spends mornings doing weight-lifting training thrice a week. https://www.instagram.com/p/CLvDZVKjgUn/ "I train because I want to do my daily activities without fear," said the Chennai woman, while talking about her willpower to overcome the horror of old age. "To all my friends and visitors who look at me in awe, you too can do this provided you have the willpower."
Read More: Six Movies Precisely Depicting Unique Struggles Of NRIs & OCIs
'Super Paati'- grandma bowls a clean strike
A video went viral on Twitter in May in which the lady was seen bowling a clean strike wearing a saree and mask. In the video, the grandma was bowling effortlessly to get a clean strike while donned in a yellow saree and a pair of sports shoes, indicating her physical strength. Shared by her US-based grandson Sudarshan Krishnamurthy captioned the video and wrote, "Hi Twitter, please appreciate my grandma bowling a strike in her saree, and then proceeding to ensure her mask covers her nose #QueenShit if you ask me!"
While netizens applauded her clean strike bowling, her community people called her "Super Pati," which means super grandmother.
Aarti Chatlani- the Grandma Earth 2020
A 62-year-old-lady, Aarti Chatlani has been crowned with the title of Grandma Earth 2020 at the Grandma Universe pageant in Bulgaria. The woman was the first Bengalurian to participate in such a beauty pageant, which only rewards the grandmothers on the basis of their responsibilities. She was awarded due to her dance performance, wearing a lehenga and bridal jewellery to represent Indian culture.