The Indian film industry is very diverse and the largest producer of movies in the world. It releases over 1,000 films yearly, catering to fans from different linguistic regions of the country. Alongside Bollywood (Hindi), regional film industries such as Kollywood (Tamil), Mollywood (Malayalam), Tollywood (Telugu & Bengali), and more, have garnered attention for their narrative styles and unique themes.
Read More: Desi Things NRI Kids Are Tired Of Hearing From Parents
Over the years, the industry has also diversified to represent Indians outside the country, all the while remaining faithful to its eccentric and distinctive style of storytelling. As more Indians emigrate, movies produced by immigrants have also clearly portrayed the life of the Indian diaspora. Here are a few movies that every Indian can connect with as a foreigner living abroad.
Bend It Like Beckham (2002):
Source: The European Film Awards
The movie revolves around a London-based high school Indian Sikh girl with incredible interest and skills in football despite her parents' disapproval. Her talent eventually lands her in the local women's football team. What follows is a juggle between fulfilling her dreams and her parents' expectations.
A classic rom-com that immaculately depicts the struggles second-generation immigrants face while following their culture that emphasises family and tradition and simultaneously assimilating to a culturally incompatible society they are raised in. It tackles issues like racism, interracial relationships, sexism, and cultural expectations and pressures.
Kal Ho Naa Ho (2003):
Source: Rediff.com
This movie needs no introduction for Bollywood lovers. A classic hit with an ensemble cast of Shah Rukh Khan, Preity Zinta, & Saif Ali Khan, the film is set in New York. It follows a love triangle between pessimistic MBA student Naina, best friend and classmate Rohit, and terminally ill neighbour Aman.
Alongside the typical marvellous festivities, and heart-rendering melodrama and romance, it outlines the financial problems faced by ethnic minorities which further contributes to dissatisfaction and mental health issues. It also addresses the stigma associated with suicide and adoption in the Indian community. The film conspicuously asserts pride in Indian identity and culture, comforting the Indian diaspora fearful of losing their originality.
ABCD – American Born Confused Desi (2013):
Source: Indiglamour
A Malayalam comedy starring Dulquer Salman, the film narrates the journey of two young American-raised Keralites who are 'exiled' into India as punishment for their reckless behaviour. Born to a billionaire settled in New York, John Isaac and his cousin Korah Murikken are sent to India under the guise of a vacation. Isaac's father confiscates their credit cards, and they are forced to live under a ₹5000 monthly budget and continue their MBA in Kerala. Seeking a way back to the US, the cousins involve themselves in socio-political matters, spiralling into political entanglements and predicaments.
The movie perfectly portrays the challenges NRIs face in adapting to their own lifestyle. The desperation for familiarity, the naivety of the characters, and the eventual character development are very much relatable to most NRIs and OCIs.
Patiala House (2011):
Source: The Asian Today
With a premise similar to Bend It Like Beckham, this Akshay Kumar and Anushka Sharma starrer tells the story of an Indian settled in the UK desperately wanting to get into the national team. His father disapproves of his dreams fearing prejudice. However, his friends encourage him and eventually join the National Cricket Team.
This light-hearted film highlights the differences in struggles faced by first and second-generation immigrants in multicultural societies. Although both are constant victims of racist acts, society has progressed to be relatively more accepting.
East is East (1999):
Source: The Bolton News
The film is set in 1971 and revolves around a Pakistani-immigrant father, his English wife, and their seven children. The children grow up to reject their Pakistani heritage, which angers the father. He later makes efforts to push his children into accepting his decisions made for them ('arranged' marriage), which gradually ruins his ties with his children and wife. Although the characters are not Indian, their troubles and strife are relatable to immigrant children and children raised in mixed households. The movie encapsulates the importance given to 'image' in the South Asian community and how parents safeguard them by sabotaging their children's lives and severing their relationship with them. A sequel, West is West, explores the disjunction between natives and non-residents in practicing and accepting cultural norms.
What Will People Say (2017):
Source: Mint
The Norwegian movie directed by Iram Haq tells a harrowing story of a young Norwegian-Pakistani girl Nisha. As the title suggests, she is forced to settle in Pakistan with her relatives to protect her family's reputation after getting to know about her Norwegian boyfriend. The plot only turns more distressing as she struggles to find her place in Pakistan and 'unsuccessfully' attempt to become a better daughter.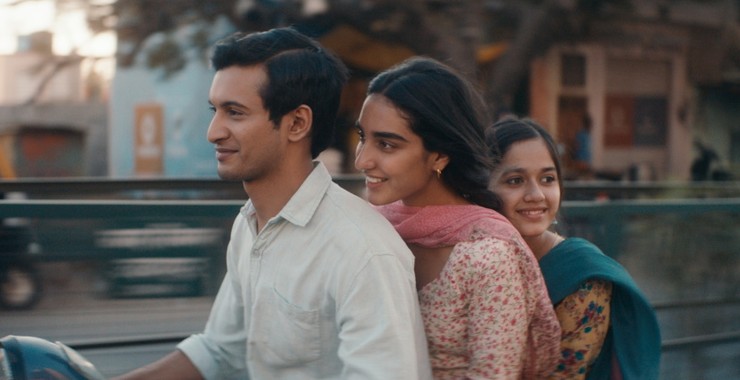 This film demonstrates a common issue of 'maintaining honour and reputation' amongst South Asian immigrants. It elucidates the lengths elders would go to preserve it, even if it means isolating their children and, in extreme situations, erase their existence.