Famously known as "a world within a world" according to Rudyard Kipling, the Lahaul and Spiti valley in Himachal Pradesh is surrounded by majestic Himalayan hills that boast of mesmerising cold barren lands of pristine gurgling rivers, scenic alpine lakes, and rich Hindu-Buddhist history and culture. While talking about Lahaul, Spiti cannot be ignored as they were two districts in HP that were merged as one. Lahaul & Spiti is inarguably one of the best places in Himachal, very much capable of transporting you to another fascinating world where you end up with a smiling face and soothing eyes.
Read More: Best Adventure Destinations In India You Must Set Sail For Once In A Lifetime
Lahaul & Spiti, with its breathtaking beauty, offers a beautiful landscape, towering peaks, deep valleys, hanging glaciers, rivers etc. and is divided by the mighty Kunzum pass. Often called as mini-Ladakh due to the similarity in landscapes, it is also famous as the cold deserts of Himachal because of the presence of the high-altitude barren lands and extremely chilly weather. The valley is perfect for those who are hiking, trekking and adventure enthusiasts.
How to reach Lahaul Valley?
Nearly 33-km away from Manali, Lahaul valley begins from the northern end of the Atal tunnel that bridges Lahaul and Manali. You can reach Lahaul by bus from Delhi as there are daily buses transiting between Manali and Delhi. You can either board a bus or a Volvo run by HRTC or HPTDC from Delhi to arrive at Manali and then take an HRTC bus that commutes through the Manali-Rohtang Pass-Kunzum Pass-Kaza route.
If you are visiting Lahaul and Spiti valley on a motorcycle, you can either go via the Kinnaur district to enter Spiti or Kullu district to directly enter Lahaul valley.
If you board a train, the nearest station is Chandigarh, however, you can also travel from Shimla. Once you reach Chandigarh, arrive at Lahaul via Manali-Spiti-Shimla by road. You can alternatively book a cab from Shimla for the onward journey.
Places to Visit in Lahaul & Spiti
Lahaul has several places with tourism potentials and you should not miss any of these places: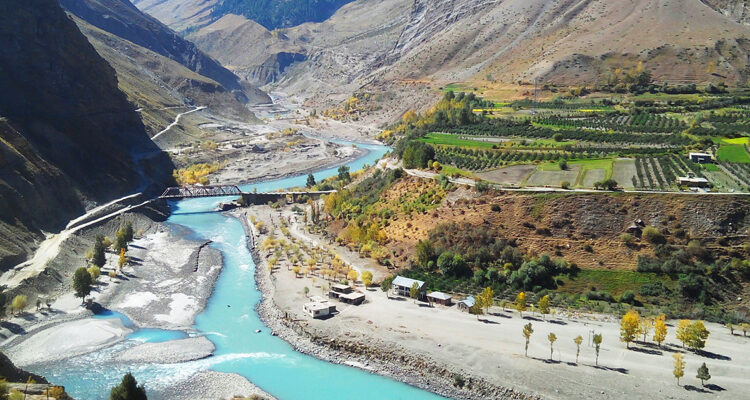 • Tandi Sangam
• Sissu Nursery, Sissu Lake and Sissu waterfall
• Kunzum Pass
• Shingola Pass
• Baralacha Pass
• Dhankar Gompa and Fort
• Darcha
• Suraj Tal
• Mini Manali
• Udaipur of Himachal
• Miyar Valley
• Pin Valley National Park
• Kaza
• Kibber
• Tabo Cave and Monastery
• Ghepan Lake
• Gondhla Fort
• Kye Monastery
• Langza Village
• Pin Valley
Accommodation in Lahaul & Spiti
Being one of the remotest places, Lahaul & Spiti valley does not have a broader range of options in terms of accommodation. You can consider staying at any of the below mid-range category hotels in Kaza:
• Snow Land Hotel
• Hotel Grand Dewachen
• Hotel Ibex
• Hotel Chandrabhaga
• Tashi Delek Hotel
• The Monk Shego
Best time to Visit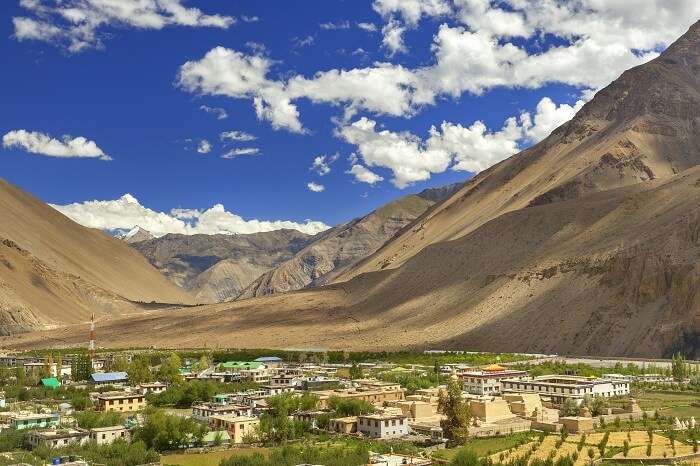 Though Spiti is colder than Lahaul, the valley often records temperature below minus 20°C. Therefore, the ideal time to explore the valley is between May and June, when the temperature fluctuates between 8°C and 15°C. However, you can plan a trip to Lahaul and Spiti valley any time. If you choose to visit it in April and mid-May, you can witness the phenomenon of melting snow. You could also pick mid-May or mid-July because during this time in Spiti tourists make a beeline to the valley to beat the city heat. Considering the number of places in Lahaul and Spiti valley to explore, the tourists are advised to spend at least eight days.