Sawan, also known as Shravan, is the fifth month of the Hindu solar calendar. On this auspicious and special month, devotees worship Lord Shiva. This year Sawan began on July 25, Sunday. During this time, while some worshippers- both men and women- visit temples to offer their prayers, some observe ritualistic fast on Mondays (Somvar Vrat). Some people fast without even drinking water on these days. Some survive on a light Sattvic diet. The following are some recipes you can try during the fast on Mondays.
Sabudana Khichdi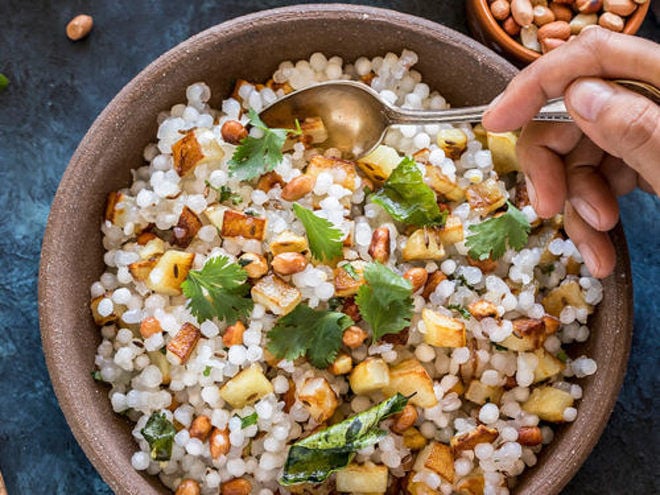 Sabudana Khichdi is not only consumed during Sawan fasts but also during other religious rituals. As it is a storehouse of starch, Sabudana helps boost energy to starve throughout the day. It is healthy, tasty and also fills the stomach optimally.
Pour 1 cup of Sabudana into a wide bowl and wash it in running water
Soak them in ¾ cups of water for 4 hours or overnight until they are double in size
Then dry roast peanuts until light brown and crunchy and crush some once they cool down
Heat oil or ghee in a pan, and add cumin seeds. Give them a quick stir, and when they begin to splutter, add curry leaves, finely chopped ginger and green chillies. Saute for 1 to 2 minutes
Add boiled potatoes and salt. Saute for 2 minutes
Lower the flame and add water-soaked yet drained Sabudana, crushed peanuts, rock salt, sugar (optional) and coconut (optional). Mix them well and saute for 2 to 3 minutes on a high flame
Switch off the heat and garnish Sabudana khichdi with the roasted peanuts, some freshly chopped coriander leaves and lemon juice. Gently stir it and serve.
Makhna Bhel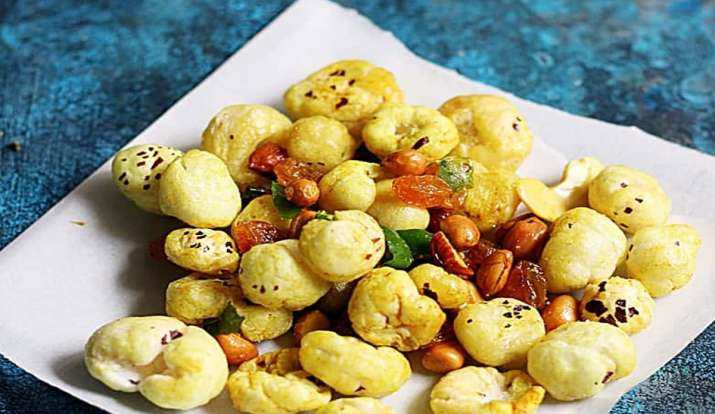 Makhana (foxnut) is one of the most common foods consumed during fasts. It also contains a storehouse of carbs and protein that provide energy to keep going. As it tastes like popcorn, you can simply roast the Makhana and have it as well.
Start by roasting Makhanas on medium heat until crunchy
Once roasted, let them cool down and transfer in a gallon size ziplock bag
Then crush them using a rolling pin
Take a bowl and add in diced cucumber, onion, tomato, potato and pomegranate arils, and stir
Next, add in chopped fresh cilantro, fresh mint, green chilli, cilantro & mint chutney, tamarind & dates sweet chutney, red chilli powder, chaat masala and lime juice. Stir all these very well.
While serving, stir in roasted Makhanas topped with some sev (optional), jalapeno crisps, pumpkin seeds, pomegranate arils and roasted peanuts.
Aloo ki Kheer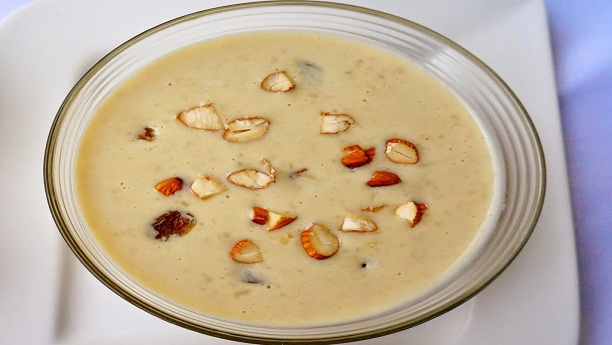 Generally, people avoid eating rice during fasts, and that is why several rice-based recipes are tweaked to make them palatable for the people during fast. Hence, people often replace rice with aloo, Sabudana or Makhana. Today we are sharing the recipe of Aloo ki Kheer.
First, peel and mash Aloo
Boil the milk and add in the mashed aloo while the former is being boiled
Keep stirring until the milk thickens
Add in condensed milk, cardamom, chopped coconut, pistachios and almonds
Kuttu ki Poori and Aloo ki Sabji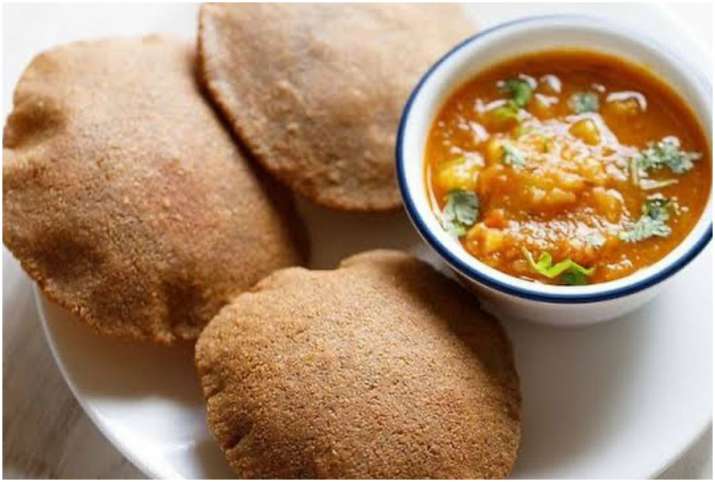 Kuttu ki poori and Aloo ki Sabji is a classic delicacy during fasts. Pooris made from gram buckwheat flour and a thick gravy of potatoes stirred with rock salt and black pepper is perfect to satisfy stomachs after an entire day of fasting.
How to make the Poori?
Take buckwheat flour (Kuttu ka Atta) in a wide mixing bowl, add cumin powder and rock salt to it. Mix it well
Add in a cup of hot water. Mix everything together. Cover the pan and keep aside till the mixture cools down
Once cooled down, knead it to a smooth dough by adding warm water if required
Make small-sized balls from the dough, and on a rolling board, roll to a round circle with a rolling pin after spreading some oil on both sides of the balls
Heat refine oil or peanut oil for deep frying in a pan. Once the oil is hot enough, gently slide Pooris one after another and fry on medium flame
Once both sides of the Poori is puffed up and looks golden and crisp, remove extra oil from the poori with a slotted spoon
And serve Kuttu ki poori after preparing Aloo ki Sabji
How to prepare Aloo ki Sabji
Place a pan on the stovetop and heat ghee. Add cumin seeds.
When the cumin seeds begin to splutter, add in yogurt
Stir fry until the ghee separates
Then, add in ginger powder, salt and chilli powder
When everything is mixed well, add diced potatoes and turn over high heat until they are lightly fried
Now add around 2 cups of water and boil it
Keep it on sim for about 15 minutes until tender enough to eat
Now serve 'vrat wale' Aloo ki Sabji with Kuttu ki Poori or Roti.
Dates and Nuts Laddoo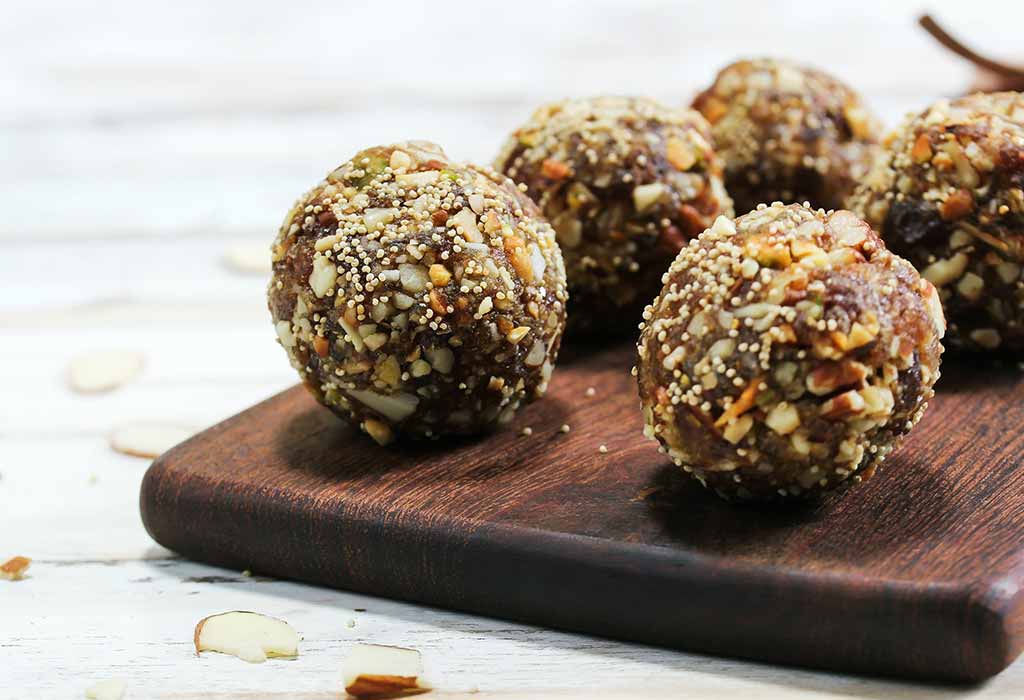 Laddoos can never go out of style, even during fasts. It satisfies taste buds apart from lessening the craving for some delicious desserts one cannot have during fast.
Start by taking a pan and add nuts of your preference
Dry roast them for a few minutes on medium flame until light brown and cool them down
Add in deseeded dates to the same pan and heat them until they are soft
Then add nuts to the dates mixture and blend them together
Take small portions and give them a round shape one by one
And serve them after rolling the Laddoos in desiccated coconut
Try these recipes out on your fasting days during this Sawan month and minimise your urge to have some normal dishes.