Situated in the forests of Aravalli hills, a 15th century Jain Temple of Ranakpur is one of the finest examples of Jain architecture. Located almost 90 kilometres away from the city of Udaipur in the district of Pali, the Ranakpur Temple in Rajasthan sits graciously poised on the banks of River Maghai. According to legends, Dhanna Shah, a prosperous merchant and prominent minister in the court of Rana Kumbha, one night dreamt about a celestial vehicle. The next morning, he woke to a burning determination of building a temple in the shape of a vehicle, to give expression to his vision. Without further ado, he shared his ambition with the king and pleaded for his assistance.
Delighted by the concept, the king assented to the request but with a condition that the structure be named after the monarch. The construction of the temple started in 1389 and continued until 1458 CE. However, a different source mentions that the construction continued until 1496. The construction took around 50 years to be completed and over two thousand workers were involved in the project.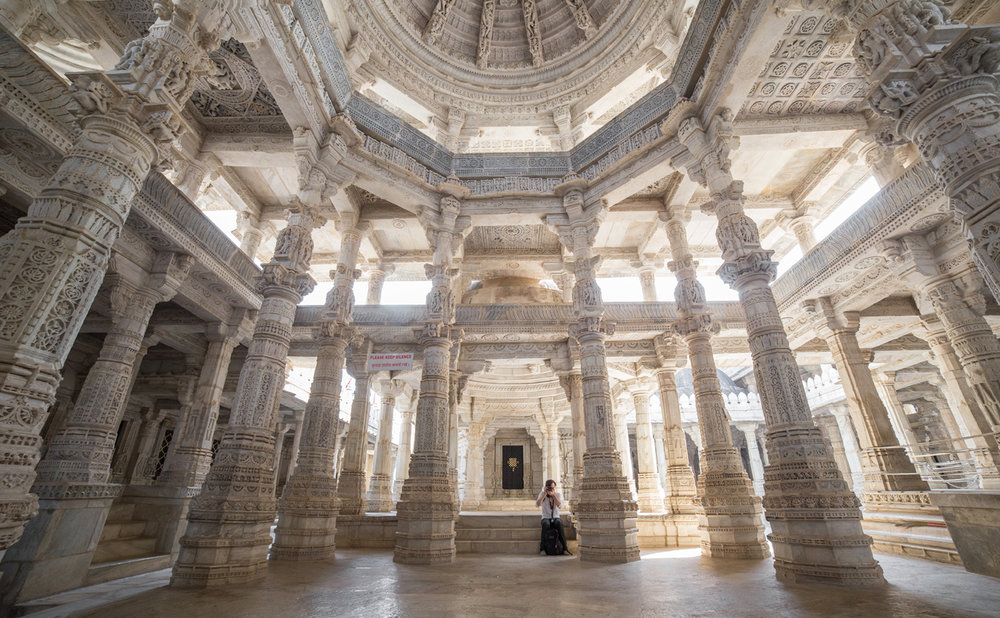 The structure of Ranakpur Jain Temple is highly complex, having four different doorways to get into the numerous chambers. The temple is famous for its beautiful carved idol of Parshvanatha made out of a single marble slab. The idol has 1008 snakeheads and numerous tails. Two chauri bearers and Yaksha and yakshi, half-human and half-snake, stand on either side. There are two elephants purifying Parshvanatha and finding the end of the tails is impossible.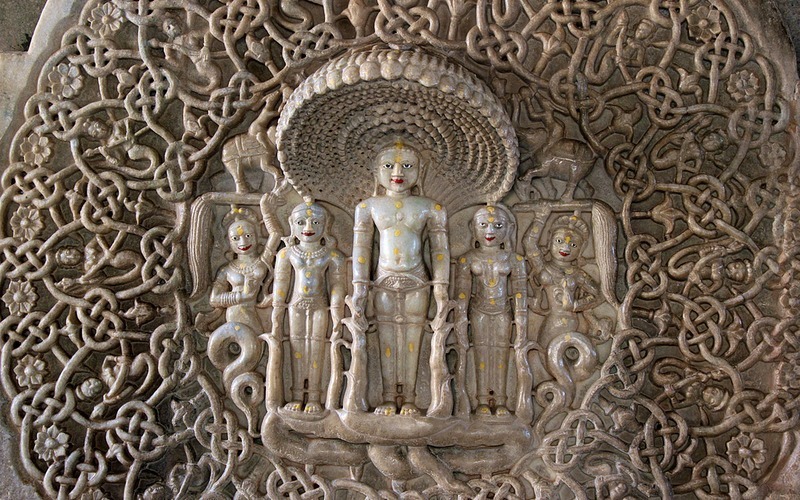 The entire ceiling of this temple complex is bedecked with geometric designs and scrollwork. However, it is the carvings of the nymphs and celestial maidens playing musical instruments, at the height of nearly 45 feet that really draws the eye. The temple comprises twenty-nine halls and eighty domes. Ranakpur Jain Temple is a three-storied marvel completely made out of light-coloured marble. 
One can feel a sudden drop in the temperature inside the temple complex in contrast to the scorching heat of Rajasthan. It is famous for its intricate carving, and sculptural work. It is interesting to note that around 1,400 intricately carved pillars support the temple. The beautiful marble takes on different shades throughout the day.