If you ever visit Krishnanagar or cross the lanes of its neighbourhood Ghurni, you would see a wide range of clay dolls (Matir Putuls) painted with vibrant colours. You cannot help but marvel at the tiny clay figures of animals, a farmer with his bullock cart, women grinding wheat, tribal people dancing with dolls, musicians playing the ektara (music instrument), the priest offering prayers.
Close to 300 traditional doll makers and labourers have been part of the rich cultural history of producing realistic clay dolls. It is said that the clay artisans of Krishnanagar migrated over 250 years ago from Natore (now Dhaka in Bangladesh) prompted by the order of an 18th-century chieftain named Krishnachandra, who was fond of art and culture. However, they were later on patronised by local zamindars (landlords) and the British. The clay dolls were traditionally made by women and represented social scenes, animals and deities. 
The clay figures are still created by modelling coils over a metal frame. Then they mix clay with cotton wool for more detailed, finer features of the model. Then they sun-dry the models. If any cracks appear on the models then they are filled with paper and tamarind seed or glue. Then they paint the figures in natural colours and prepare their hairs out of sheep's wool or jute.
The clay dolls got international prominence after the advent of the British in 1757. The then administration was so impressed with the clay dolls that they encouraged the artisans to even create clay statues representing their Christian faith. During that time, the clay dolls began to be exported to Britain and European countries and hence they got recognition globally.
In the latter half of the 19th century and early 20th century, Krishnanagar's clay figures became more famous due to the contributions of Jadunath Pal, Ramlal Pal, Bakkeswar Pal, Rakhaldas Pal and Chandrabhushan Pal Mukherjee.
Jadunath Pal was honoured for the depiction of his group of figures made for the Victoria Museum's collection at the Melbourne International Exhibition in 1880.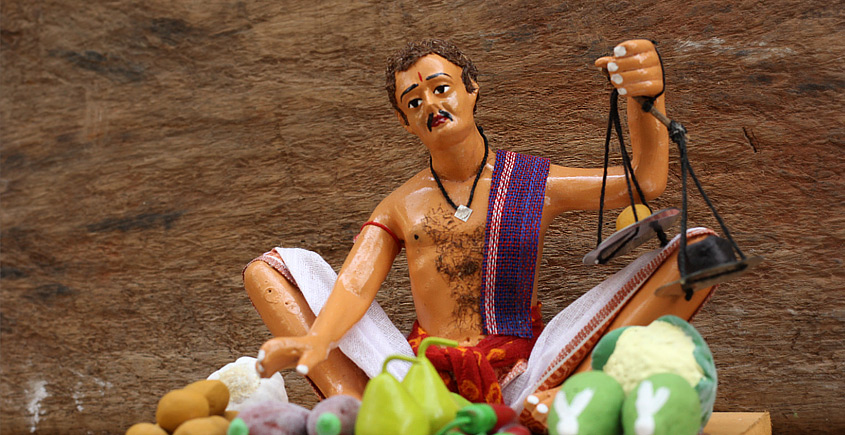 Throughout the late 19th and early 20th centuries, numerous Krishnanagar clay-makers created models that were put up on exhibitions. In 1924, during an exhibition in London, the Duke of Connaught was so impressed by the realistic outlook of clay figures that he requested an Indian sculptor to make his portrait. The sculptor agreed and when he managed to create a life-like image of the Duke, his astonishment simply multiplied.
Their focus remained constant throughout the past centuries. The artisans are careful about their craftsmanship, including fine finishing, detailing and the emphasized vibrant colours.
They take orders during the Bengali's extravagant festivities like Durga Puja. Besides, they also make smaller clay idols and dolls during the Jagannath Rath Yatra of Puri or Jhulan festival.
Krishnanagar is famous for its culture and literature. Apart from modelling clay dolls, handicrafts like rugs, miniature painting, bamboo and jute crafts are also made here.