India is a land of mind-boggling cuisines and soul-stirring dishes. When talking about Indian cuisines, it links to culture and diversity. From street foods like Golgappa and several Chaats to delicacies like Biriyani and Kebabs, the food culture of India is spicy, sweet and sour, and flavourful. However, one dish that is quite underrated and has a love-hate relationship with people has a rich history, Khichdi.
Origin of Khichdi
The term Khichdi originated from the Sanskrit word 'Khiccha', which means rice and legumes. It is believed that the dish has been added to Indian cuisine since the Greek king Seleucus campaign in India between 305-303 BC. He mentioned that rice with pulses is prevalent among people in the Indian subcontinent.
The Moroccan traveller Ibn Battuta mentioned Kishri as a dish in India composed of rice and mung beans during his visit to India in 1350. Khichri is also described in the writings of Afanasiy Nikitin, a Russian adventurer who travelled to the Indian subcontinent in the 15th century.
It became very popular during Mughal emperors, especially during the kingdom of Jahangir. A 16th-century document, Ain-I-Akbari was written by Mughal Emperor Akbar's vizier.
The mention of Khichdi could also be found in the Indian epic 'Mahabharata' during the 9th and 8th centuries BCE. Drapaudi is said to have fed Khichdi to the Pandavas during their exile. Additionally, it was also eaten by Lord Krishna.
There is an anecdotal story of Akbar, Birbal and Khichdi.
Interestingly, Khichdi made its way up to England as well to Queen Victoria. She tasted Khichdi when her Urdu teacher Munshi Abdul Karim offered her some. However, she liked and preferred Masoor-ki-dal mixed in rice with it. This soup was often served to her. Thus, Khichdi became famous as 'Malika Masoor'.
Khichdi Variations
Khichdi is widely made from rice and lentils. However, every region in India prepares the classic dish in its way. Khichdi is eaten for several purposes and times. It is served as a baby's first meal and to a sick person as it is easily digestible and nutritious. However, it is offered to several goddesses during Puja or eaten on diverse occasions in some regions.
Vaghareli Khichdi- Gujrat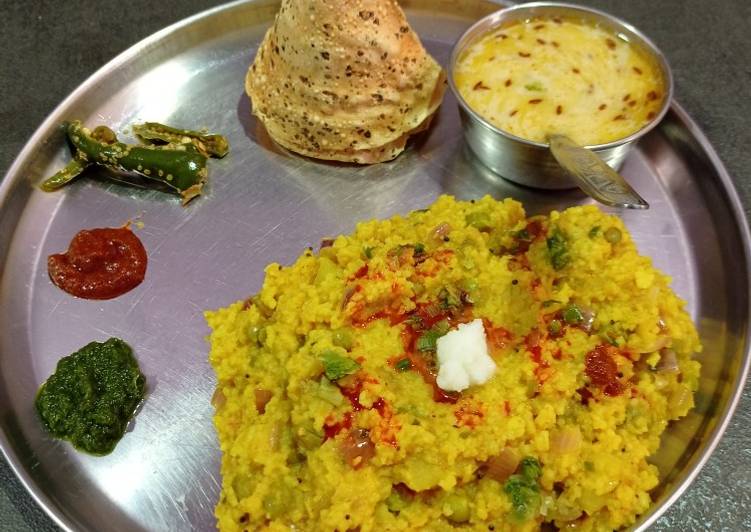 In Gujarat, Khichdi, also known as Vaghareli Khichdi, is prepared with rice and moong dal and tempered with garlic, mustard seeds, cumin seeds and curry leaves. It is eaten with a bowl of spiced kadhi (a yoghurt-based curry).
Ven Pongal- Tamil Nadu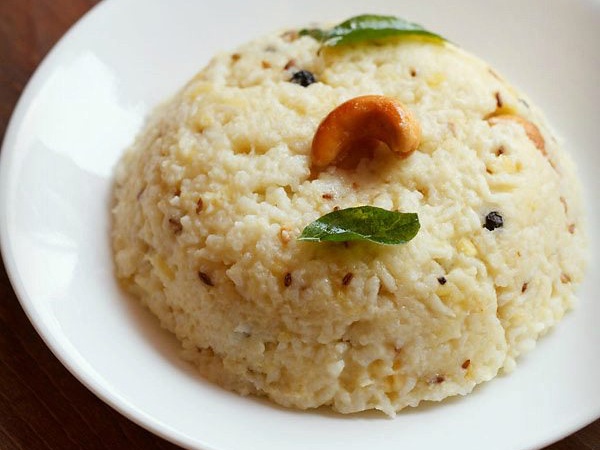 Ven Pongal (AKA Khara Pongal) is made from rice and yellow moong pulses. It can be made sweet or savoury by adding cumin, asafetida, curry leaves, black pepper and ginger. The hero of Ven Pongal is ghee because of its lovely aroma. It is also consumed in the form of fiery milagu pongal and the sweet jaggery-infused sakkarai pongal.
Bisi Bele Huliana- Karnataka
Kannada name Bisi Bele Huliana, a hot and tangy dish, is also called Bisibelebath. The word Bisi means hot, Bele means lentils, and Bath translates the dish made with rice. It is believed that the dish was originated in the kitchen of the Wadiyar rulers of Mysore. The one-pot meal is prepared with dal, rice, seasonal vegetables, tamarind, jaggery, dried coconut and kapok buds.
Keeme ki Khichdi- Hyderabad
Created by the imperial chefs of Hyderabadi Nizams, Keeme ki Khichdi is a unique spicy dish mix of rice, lentils and minced meat that is traditionally served with soup and soupy Khatta.
Balaee and Garhwali Khichdi- Himachal Pradesh
Balaee Khichdi is very delicious and easy to make. It is prepared with rice, black chickpeas, roasted coriander, Bengal gram and buttermilk.
Garhwali Khichdi is made with rice, urad dal, sesame seeds and warming spices.
Kashmiri Khichdi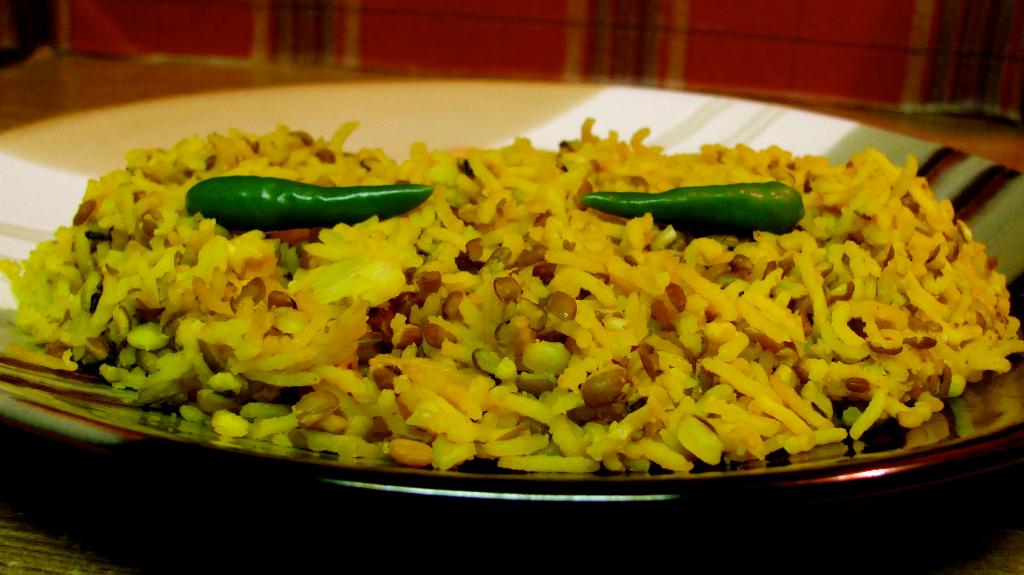 Khichdi was traditionally offered to local deities at the festival of Khetsimavas as sacrificial food in Kashmir. Locals now enjoy it with Kadam ka Achaar (pickled knol knol).
Khichuri or Bhog'er Khichuri- West Bengal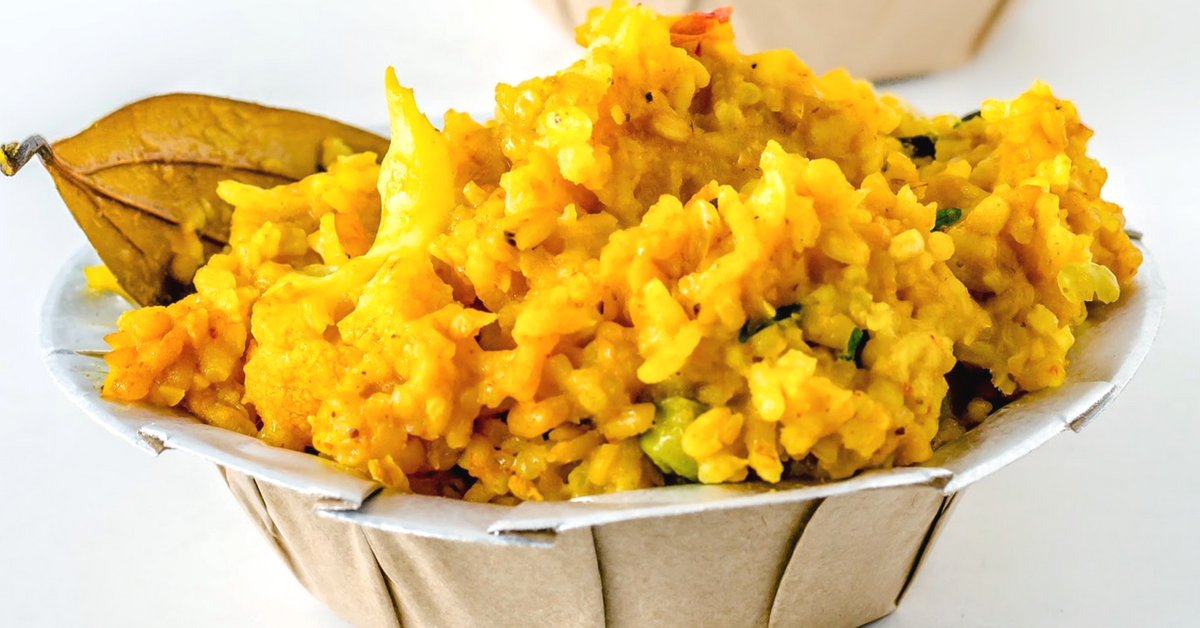 In West Bengal, Khichuri is served more like staple food, whether Durga Puja or a rainy day. During Durga Puja, Bhog'er Khichuri or Niramish Kichuri (a no onion, no garlic recipe) is made with moong dal (split yellow lentil), gobindo bhog rice, ghee, large-sized potatoes, cauliflower and peas and served with a mishmash of leafy greens and vegetables called Lyabra. When it showers in West Bengal, most Bengalis relish Khichri with large pieces of deep-fried Illish (Hilsa fish), an omelette, papad, fried eggplant or Beguni (fritter made of eggplant and gram flour). People across Bengal also prepare pulao-like bhuni khichuri (studded with assorted vegetables) and serve with fried fish.
Amla Khichdi- Uttar Pradesh
This nutritious variation of Khichdi is made using rice, split black gram (kali dal) and Indian gooseberries (amla). Amla Khichdi is specially prepared during the festival of Makar Sankranti.