Kulfi is more than just a creamy rich dessert made from milk for people across the country. Many describe it as a nostalgic trip in a bite. Originated in India in the 16th century, the yummy frozen dessert has been popular for long.
Read More: Amrut: India's First Single Malt Whiskey
One would experience the pure joy slurping away at the cooling sweetness of a delicious malai or pista kulfi, unbothered by the sweltering summer heat, which is unmatched. Ice cream is more popular worldwide, and it will never take over people's love for kulfis in the Indian subcontinent.
Here are some easy kulfi recipes you can try out at home to beat the summer heat.
Pista Malai Kulfi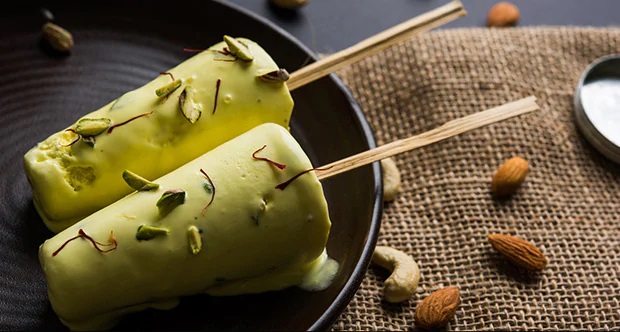 Sweet, nutty pista spiced with flavourful cardamom and creamy malai blended together to create a delicious kulfi. Here's how to prepare it:
In a thick bottomed pan, add 1.5 – 2 litres of whole cream milk and boil it.
Once the milk is boiled, add cream and stir it well.
Simmer for 30 minutes and keep stirring in between.
Then add sugar and mix it.
Simmer for 5 minutes or till the milk thickens completely.
Next, add chopped pistachios, saffron milk and cardamom powder.
Then mix and simmer further for 5 minutes more.
Allow the thickened milk to cool completely for at least an hour.
Once the milk is cooled completely, transfer them to kulfi moulds or a plastic glass.
Cover the glass with cling wrap or use aluminium foil.
Furthermore, freeze the cup for at least 5 hours or overnight.
When the kufi is set completely, insert a stick in between the cup.
Then slowly warm up by rubbing in between your hands or dip in warm water.
Lastly, remove the kulfi from the glass/ mould gently and garnish with a few chopped pistachios, and serve the kulfi immediately.
Badam and Gulkand Kulfi
A refreshing dessert that consists of crunchy almonds with sweet gulkand spiced with pungent and flavourful saffron. You can follow the steps to make it:
Immerse almonds in water for a few hours as it will be easy for removing the skin from almonds for further cooking.
Once removed from the skin, grind 90% of almonds and make a fine paste.
Clean and then soak the rose petals in water for a few hours.
After that, cook them in sugar water until the consistency is thick.
Take a separate bowl and dissolve some saffron strands for few minutes.
When done with these steps, boil the milk and reduce it to 40%.
Now add grated condensed milk almond paste, sugar, saffron water with strands, and cook until condensed milk is completely dissolved in milk.
Pour the mixture into the kulfi cones or moulds.
Cook the rose petals and sliced almonds and freeze everything in the ice-cream moulds.
Let the mixture rest for at least 5-6 hours in the freezer.
Finally, un-mould the cold kulfi in the serving plate
Kesar Kulfi
Kesar kulfi is an amalgamation of flavourful Indian spices such as cardamom and saffron blended with crunchy dry fruits like cashews and almonds to prepare a refreshing and delicious dessert. Here's the recipe:
Take milk in a pan, bring to simmer while stirring.
Add condensed milk to the pan and mix well.
Now add crushed cardamoms to the pan and stir thoroughly and boil.
Add chopped cashews and almonds to the boiling milk and stir well.
Take the cardamom powder, saffron and cornflour separately dissolved in a tbsp of milk and then add them to the boiling milk mixture.
Thoroughly Stir it to get a thick consistency.
Keep it aside for at least 2 hours to cool down.
Once cooled down, put the thick paste into separate moulds of kulfi.
Refrigerate the moulds for at least 7 hours.
Serve the frozen kulfi sprinkled with almonds and cashews.