Teej is around the corner. As per Hindu mythology, Teej is celebrated for the union of Goddess Parvati with Lord Shiva. Goddess Parvati devoted her to Lord Shiva and wanted him to accept her. After 108 rebirths on Earth, Lord Shiva agreed to accept Parvati as his wife on this day. To celebrate the day, Teej is observed across Northern and Western states of India, including Rajasthan, Madhya Pradesh, Uttar Pradesh and Haryana, and Nepal.
This significant Hindu festivity is mainly celebrated by women just after the monsoon arrives in the country. Women observe ritualistic fasts for marital bliss. Wherein some choose to have fast without even drinking water, others eat sattvic food throughout the day. In the evening of that day, they offer prayers to Teej Mata and break their fast with savoury foods and deliciously sweet.
To make the auspicious day special, try making out these sweet dishes today, August 11.
Ghewar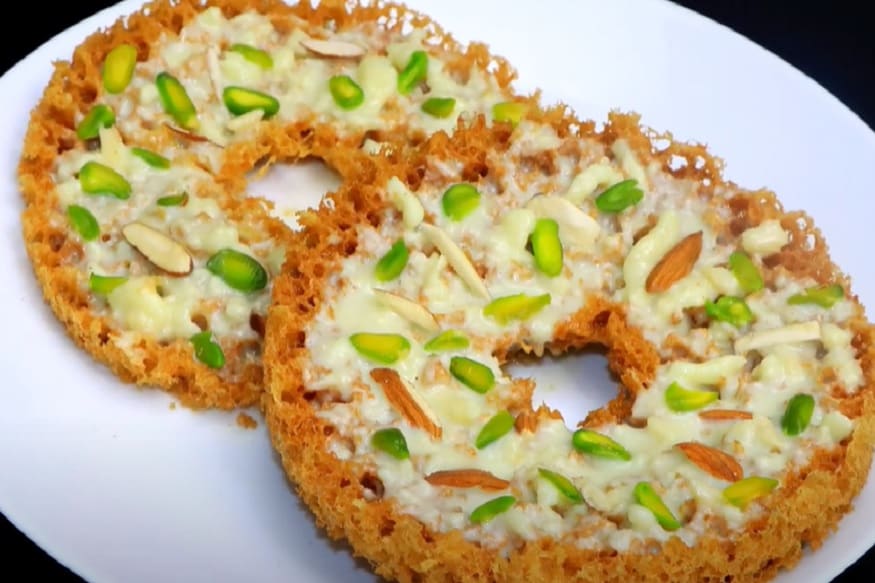 Ghewar is a delicious Rajasthani desert that is popularly made during the month of Shravan when the festivals of Teej and Raksha Bandhan fall. It has plenty of varieties like mawa (a dairy food) and malai. Let's see how to prepare this disc-shaped sweet:
Start by preparing consistent sugar syrup.
Take solidified ghee in a wide bowl, rub the ghee vigorously, and take ice cube at a time. Keep rubbing the ghee until it becomes white.
Add in flour, milk and a cup of water, and mix to make a smooth batter.
Dissolve colour in some water and add it to the batter, and make it fairly thin.
Take an aluminium container (height should be at least 12″) and fill the container half with ghee. Then heat it.
When the ghee is piping hot, take a glass full of batter. Pour in the centre of ghee, slowly in one continuous threadlike stream. Allow foam to settle.
Once the foam is settled, pour one more glassful into the hole formed in the centre.
After the foam settles, loosen ghewar with an iron skewer inserted in a hole.
Keep the hot syrup in a vast, flat-bottomed container to fit in ghewar. Place ghewar in it, and remove
Keep aside mesh to drain excess syrup out of it.
Serve ghewar with rabri (optional)
Sweet Kachori  
Another Rajasthani delight, Sweet Kachori is a flaky and crispy dish stuffed with mawa and dry fruits. It is generally dipped in sugar syrup and served.
Take mawa and dry fruits in a wide bowl
Add in cardamom seeds, powdered sugar to the bowl and mix. Keep aside
Take regular flour (maida) in another bowl and add in gram flour (besan) and ghee to it; mix well
Add water to it and knead in a way that the dough becomes soft
Sprinkle regular flour and plain
Next, add in dry fruit mix to it and water on the edges of the dough
Tuck it in and make small kachori out of it
Fry until the kachori turns golden brown. Keep aside
In a pan, add sugar and water to prepare sugar syrup
Drizzle syrup on the kachori and serve either hot or cold
Malai Kheer  
Kheer is a typical delicacy that gets along with any Indian festivities, be it Eid or Diwali. It is usually made using basmati rice, milk and condensed milk. Let's take a quick look at how to prepare Malai Kheer.
Soak the rice in a bowl and make a granular paste. Keep it aside
Take a pan and boil the milk until it reduces to half.
Then add in the rice and cook further
When the rice is cooked, add in the condensed milk and khoya, and cook it for 10 minutes
Next, add in the cream, sugar, cardamom powder, saffron strands.
Garnish Malai Kheer with some dry fruits like almonds and pistachios and serve it bot hot or cold
Coconut Laddoo  
You don't need much time to make yummy coconut laddoo. To make it, you need ground coconut, khoya and condensed milk.
You can start by taking a pan and adding ground or grated coconut, and toast them slightly, so it doesn't get burnt
Keep the roasted coconut on low heat and add condensed milk to it and mix them well
Next, add khoya into it and give it a good mix
Keep the mixture on the heat, and keep stirring until the mixture starts leaving the sides of the pan
Once it starts leaving the sides, take it off the heat
Fry cashew and almonds in ghee
Roll the mixture into small balls along with dry fruits
Finally, serve the coconut laddoos