In India, no meal is complete without something sweet, especially during festivities. Talking about celebrations, one of the most awaited annual festivals of Malayalees, Onam, has begun. The 10-day long fiesta is observed during the harvesting season of late August and early September to celebrate the homecoming of Kerala's mythical king Mahabali.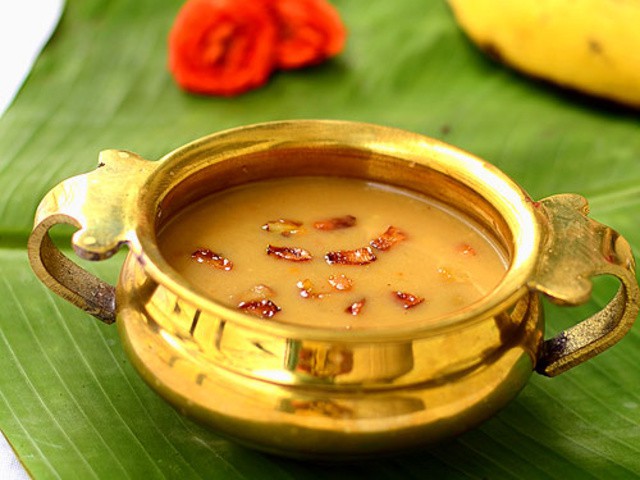 One of the star highlights of Onam is Onasadya, where the humble banana leaf is seen studded with over 25 different sour salty and spicy vegetarian items like Inji Curry (Ginger Curry), Mango Pulissery, Pacchadis, etc., along with sweet dishes. To complement the Sandhya, Ada Pradhaman, a variation of payasam, is made with Ada rice, cashew nuts, coconut, palm and jaggery.
The rice flour-based payasam spiked with the richness of ghee and jaggery is so smooth and ambrosial on the palate.
Recipe of Ada Pradhaman Payasam
Soak Ada in boiling water for 15 minutes or until it becomes soft.
Drain the water and rinse in cold water
Boil and dissolve jaggery in 100 ml water and strain to remove impurities, if any
Take a pan and heat ghee. Add cashew nuts, raisins and coconut pieces to the ghee and fry separately one after another. Remove them from the pan.
Heat ghee and fry the Ada in low flame for at least 4-5 minutes in the same pan.
Next, add jaggery water and cardamom to the Ada and cook in low flame until it thickens.
Remove the scum collected on the sides.
Add in the thick fresh coconut milk and bring it to a single boil. Take it off the heat, stirring vigorously.
Or,
Prepare a steamer with water in its base.
Cut banana leaves into 5-inch squares, wilt them over an open flame to roll and grease with the ghee.
In a bowl, take rice flour and water, mix them well into a thick pancake batter.
Spread batter like a thin layer on the leaf. Roll up each leaf and place it in the steamer
Cook for 8-10 minutes. Open the leaves and cut the steamed dough into ½ inch squares.
Once the Ada is prepared, Keep it aside. Now take a deep skillet. Add thin coconut milk, jaggery, cardamom, ghee, ginger, and simmer it for 6-8 minutes.
Add previously made Ada to the simmering mixture.
Add thick coconut milk and simmer until the payasam thickens.
Top it with the fried cashew nuts, raisins and coconut bits
Serve Ada Pradhaman warm.