No other state can beat Maharashtra when it comes to monsoon tourism as it has many spectacular monsoon destinations. While there are unique places to treat your eyes with mesmerising views, there are some ideal trails for trekkers who prefer to indulge themselves in outdoor and adventurous activities. Maharashtra offers some unique and wonderful trekking destinations for all kinds of trekkers, especially during monsoons. One such destination is Visapur Fort.
Located around 60 km away from Pune, Visapur Fort is a magnificent structure that allures people of all ages. Built during 1713-1720 CE by Balaji Vishwanath, the fort is one of the highest forts in Maharashtra. Perched upon a lush green plateau, Visapur Fort is quite famous among trekkers as it offers a long waterfall trail. It may indicate that the trek difficulty level is moderate to difficult (based on the route becomes slippery), but it's actually not. It's an ideal one-day monsoon trek for beginners.
How to Reach Visapur Fort
The most convenient and cheapest way to arrive at the fort is via railway. Visapur fort is located 5-8 km away from the Malavali railway station, connected to Mumbai, Lonavala and Pune via local trains. From Malavali railway station, you can either take a shared auto/taxi or walk to the base village of Visapur fort.   
I would suggest you go by road if you live nearby or in any district of Maharashtra. If you go by bike, you can take Mumbai-Bangalore Road, leading to NH48. From Mumbai-Pandharpur road, take a left to Ekvira Devi Road to arrive at Malavali. From there, the Lohagadwdi base village is just around 5 km away from the Malavali railway station.
Trek Routes for Visapur
There are three trekking routes to reach the top of Visapur Fort.
Gaimukh Khind Trail  
If you follow this trail, you will reach the top of Visapur fort within an hour. When you are on the route to Lohagad from Malavali, take a left once you arrive at Viraj Farms. Continue walking for 10 to 15 minutes until you reach a point where the road divides into two. Then go with the left trail. After a few meters of walking, you will see a board written 'Visapur Kade'. Go ahead with that trail. This trail offers mesmerising views of jungles and waterfalls as you move forward.
Patan Village Trail  
You may start your trek following the Patan village route, which takes around 2 hours to arrive at the top. As you are unaware of the trail, you can ask for help from the locals. You stick to Patan village to your left. Once you see a waterfall, keep moving forward until you reach a fork. Then take the right one for Visapur Fort as the left will take you to the Lohagad fort. After hiking for around 30 minutes or so, you will come across a broken staircase that will lead you to the fort's entrance. You may consider taking this route as you get to walk on different terrains on the same trek.
Bhaje Caves Trail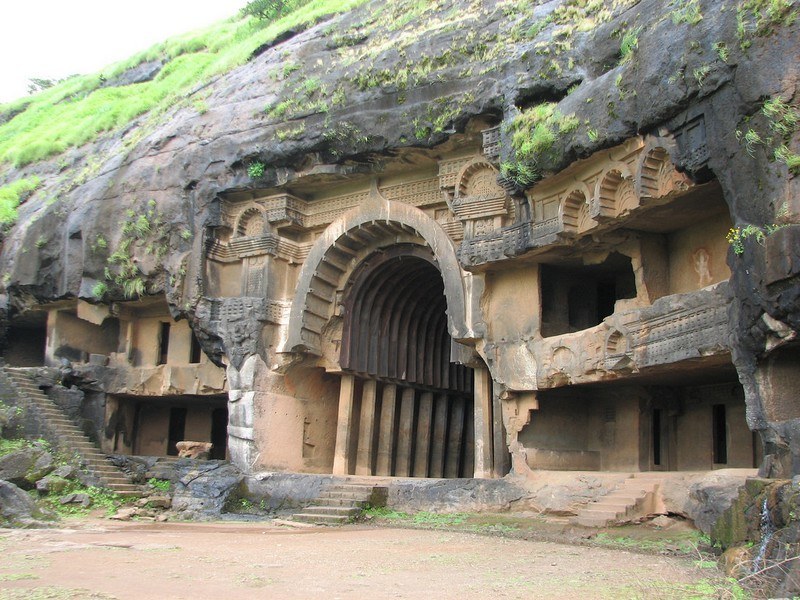 Located on the midway of Malavali station and Visapur base village, the Bhaje caves trail eventually takes you to the route of the Patan village. Climbing a few stairs, you will see a mango tree on your left. Follow the track straight, and you will reach a small plateau where you come across two abandoned huts.
Keep walking by sticking to your left-hand side of the hill until you see a small waterfall. From there, you can start the much-awaited staircase way filled with waterfalls.