The Korean entertainment industry is currently enthralling the world with robust content. From Oscars and Grammys to endless new original releases on Netflix, this decade is rightfully theirs. If 2020 was the year for K-Movies, 2021 is certainly a promising year for K-dramas. With increasing budgets, good production values, intriguing storylines, the scenario has improved dramatically from what it was 10 years ago. Here are a few K-dramas of 2021 that promise to take you on an endless binge-watching journey.
Vincenzo:  
A Netflix Original starring Song Joong Ki as an anti-hero, the story follows an Italian-Korean Mafia Lawyer and his quest to recover the fortune of a dead Tycoon while feuding against a Korean Pharmaceutical company Babel Group. It is one of the highest-rated K-dramas of 2021 and in history. 
Mr. Queen: 
A comedy with Shin Hye Sun & Kim Jung Hyun as the main leads, the historical dramedy revolves around a chef in the 21st century opening his eyes in the Joseon Era and finding himself trapped in the Queen's body. It is the 7th highest-rated K-drama in television History. 
Penthouse:  
Is there anything better than drama involving the rich or the affluent? It revolves around families at the Hera Palace and their desire to be the best. The plot thickens with the death of a high school student at the residence, whose murder could be caused by any of them. Unlike most K-dramas, Penthouse has had 2 seasons, with the third one currently going on. It is a popular show among international viewers and also ranked 9th, 10th, and 18th in the most number of viewers nationwide. 
True Beauty: 
Lim Ju Kyung, a student with an inferiority complex over her looks, goes through a transformation and finds herself at the centre of popularity when she shifts to a new school. A sweet high-school rom-com based on a popular Webtoon, the drama has Cha Eunwoo, Moon Gayoung, & Hwang In Yeop as the main leads. 
Sweet Home: 
The genre of Apocalyptic Horror is usually reserved for K-movies. But Sweet Home, another Netflix Original K-Drama, successfully portrayed the battle for survival. The story revolves around apartment residents trapped inside as monsters eliminate humanity. The drama is also based on a popular Webtoon. The cast includes Lee Dohyun, Song Kang, Lee Siyoung, Go Min Si, Go Yoon Jung, and more.
Law School: 
A Netflix Original starring Kim Bum, Go Yoon Jung, Ryu Hye Young, and Kim Myung Min, the plot revolves around ambitious law students and their professor after they get tangled in an anomalous murder case.
The Devil Judge: 
A drama with a unique and disturbing plot. Starring Jisung, Park Jinyoung, Kim Minjung, Park Gyu Young, the plot depicts a dystopian South Korea, where the public despises their leaders and courtroom trials are held on a live show. The drama is currently airing on television. 
Mouse: 
A thriller with Lee Seung Gi and Lee Hee Joon as police officers. The story follows their pursuit of psychopathic behaviour and if detection pre-birth is possible. The drama had the highest viewership ratings amongst other shows during its time slot. 
Hospital Playlist 2: 
A feel-good medical drama about 5 successful doctors/professors whose friendship blossomed during their university days. Season 1 is one of the highest-rated K-dramas in history whereas its season 2 had the highest viewership rating nationwide while being aired. 
Youth of May: 
Set in 1980 during the Gwangju Uprising, the story revolves around a nurse and a medical student. As both get closer, their relationship gets burdened by the political unrest. A sweet but tragic romance drama starring Lee Dohyun and Go Minsi.
Taxi Driver: 
A crime drama starring Lee Je Hoon, it is an adaptation of a Webtoon and is inspired by true crimes in South Korea. The plot revolves around a Special Forces officer who is heartbroken by his mother's murder. He is later recruited by a taxi service that avenges victims who were failed by the law.
Move To Heaven: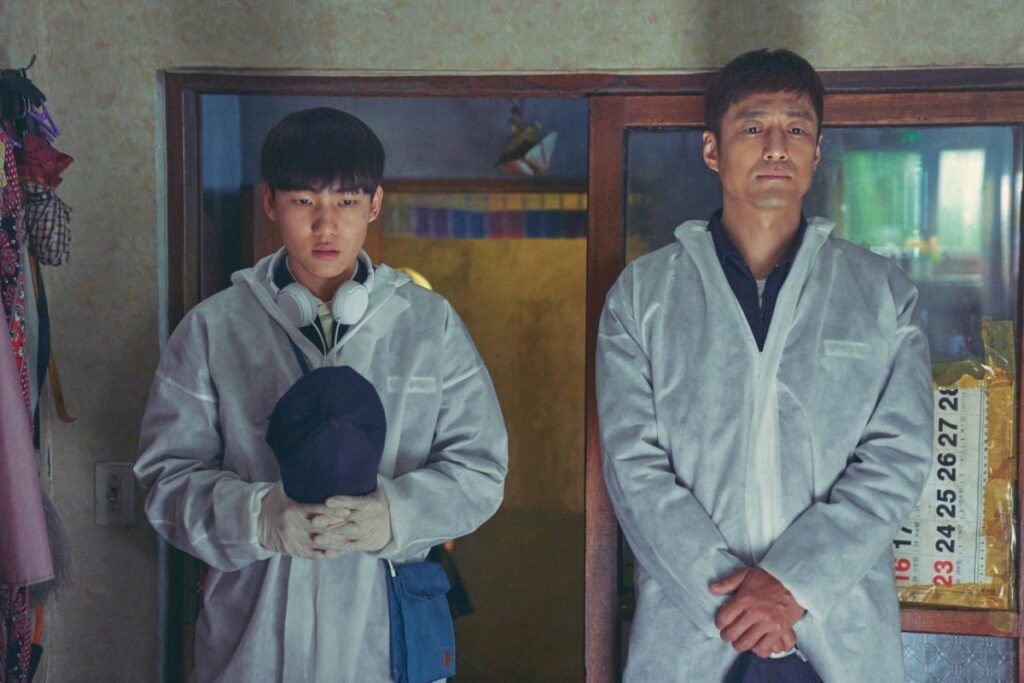 Starring Lee Je Hoon and Tang Joon Sang, the plot narrates the life of an ex-convict uncle and his niece with Asperger Syndrome who continue running a 'trauma cleaning' company Move To Heaven after their brother/father's death. 
Beyond Evil:  
The winner of 3 major awards at the Baeksang Arts Awards, one of the most prestigious entertainment awards in South Korea, this drama is often dubbed as one of the best K-dramas of 2021. The drama stars Yeo Jin Goo and Shin Ha Kyun who transgress the law to hunt a serial killer.