French never came to India intending to conquer, unlike the British who wanted to unseat the rulers to occupy the princely states of India. The French started visiting from 1668 onwards, its first-ever settlement in India came up around 1673 at Chandernagore (present-day Hoogly district of West Bengal) after purchasing land from the Mughal Governor of Bengal. Soon another area near Madras was acquired (present-day Puducherry) from the Sultan of Bijapur. The motive of trading helped these places flourish as a part of the maritime commercial activities of the French in India. 
The scenic ECR highway (East Coast Road), which solemnly gives you the views of the sea on one side and salt cultivation on the other, is one of the major gateways to Puducherry. Popular as the French town, this capital city is a tourist hotspot attractive for its beaches, yellow-themed heritage buildings, and white courtyards.
Well, let's explore and try to know the other French settlements of India.
Chandernagore or Chandannagar located along the beautiful paved stretch on the banks of river Hoogly, laden with numerous colonial buildings, Ghats, Sacred Heart Church and other spots, is a treat for both tourists and historians. This forgotten little town also happens to be the hideout of many famous personalities and revolutionaries in the past, including Rabindranath Tagore.
Karaikal is another beautiful port city in the Union Territory of Puducherry that serves as a classic destination for those who seek hush and tranquility. People who know come here can experience the concoction of several religions with the touch of French influence. The Temples, Church, Dargah, the beaches and their sunset points will delight you for sure.
Yanaon or Yanam is a unique place in Andhra Pradesh that falls under the administration of Puducherry. The town carries the ultimate vibe of a French town in Indian geography. It has a history of rulers and colonisers over thousand years old and the final shape to its culture and tradition was given by the merchants of France. The beaches are serene and the landscape holds rivers, mangrove forest and beautiful architecture with colourful houses. The town also has a replica of the Eiffel Tower and people simply yell "Bonjour" while devouring 'Cheeramenu' a special fish delicacy made exclusively from the fish caught with a saree.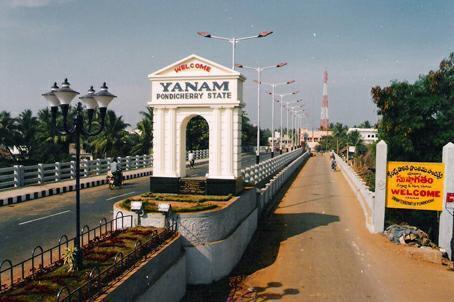 Mahe too follows the magical phenomenon of falling inside Kerala but jurisdiction lying in Pondicherry. A port on the western coast of the country also served as a home for many revolutionaries and leaders and is the smallest district of India. It's different from other coasts of the Malabar coastal line and was a surfing hotspot during the 70s and 80s. The famous St. Teresa Church serves as a place of conflux for Christians from neighbouring countries of South East Asia.
All these port cities and towns are very much close to water bodies that embodied the growth of civilization in harmony between France and India.