Let's cut the gossip today and concentrate on our plate. Yes, you will love and cherish the mouth-watering delicacies from Assam if you are a cuisine enthusiast. The eccentricity lies in the food preparation, where authenticity is maintained by the least use of onions and negligible use of powdered spices compared to any state of India.
Lai Xaak dia Gahori  
Pork with mustard greens (lai xaak) is a highly demanding delicacy of Assam and even the other northeastern states. Usually, these leaves are added to fried or roasted cooked pork when they can absorb the salt and oil from the dish but don't overcook or lose their green appearance.
Outenga Maati Dal   
Black Urad dal is cooked with Elephant Apple; the taste of the lentil slurry depends on whether the Outenga is raw green or riped yellow.
Kumura dia Haah  
Duck with Ash Gourd is a unique cuisine during winters, and serving duck to guests is claimed as a great deal of hospitality.
Patot diya mash 
Small fish, usually fishes equivalent to the size of our fingers, are wrapped in a Banana leaf and cooked on steam or directly over firewood. The fishes are marinated with salt, mustard oil and few herbs, and some apply the mustard paste to it before it goes on the fire.
Payokh  
The Assamese version of Kheer / Porridge is cooked with indigenous scented rice called "Joha Chawal", which also possesses a GI tag. It is usually made in cow milk and the use of bay leaves, and green cardamom is a must, and it is optional to add raisins or cashew nuts.
Mashor Tenga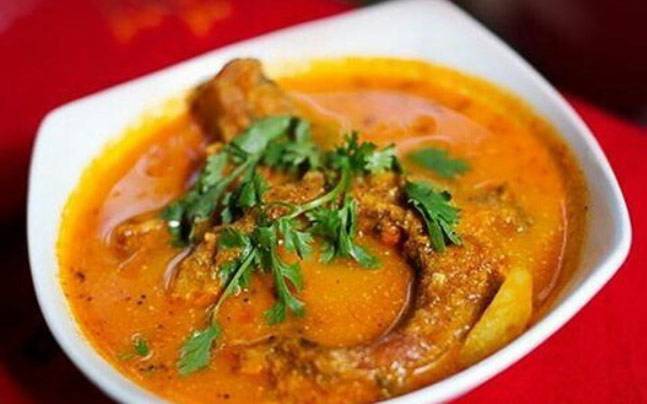 It is a normal fish curry cooked with bare minimum ingredients using an indigenous variety of any sour such as cherry tomatoes/mangosteen fruit/roselle leaves.
Aloo Pitika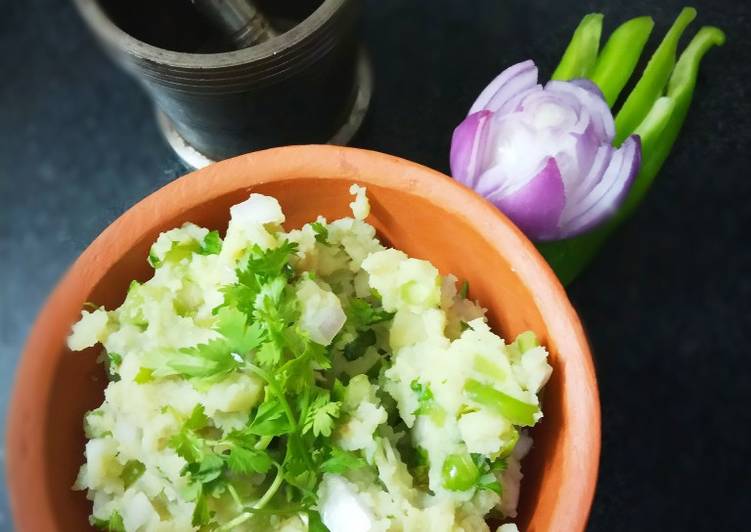 This all-time-favourite item is a simplified version of mashed potato where boiled potatoes are mixed with salt, raw mustard oil, onion and green chillies, and it goes well with rice.
Xaak Bhaji  
Any seasonal tender leafy vegetables sautéed in bare minimum oil by spluttering mustard seeds or 1-2 cloves of garlic and kept green to retain its nutrients and taste.
Omita Khar  
This unique alkali preparation with raw Papaya aids in digestion and is very soothing for the stomach. In one of my articles exclusively, I have mentioned it in detail. 
Murgi'r Suruha 
Local chicken cooked like a stew with salt, ginger, black pepper; some prefer to add guti aloo (baby potatoes), but it is optional. Adding maan dhonia (wild coriander) leaves serves the purpose of tempting any passer-by to get its aroma. A healthy meaty preparation gels well with Chapatti or Rice.
This was a list for beginners (well, just kidding), but these are readily available in an excellent ethnic restaurant serving Assamese cuisines. There are more exotic dishes that can be tried once we grow affinity towards the basics.