Little India is known as one of the most vibrant districts of Singapore. In the Indian Singaporean community, Little India is known as Tekka. Each year this ethnic district holds a month-long celebration for Diwali. The district is illuminated with more than two million bulbs and to welcome the festival of lights they feature 'Gopuram' as the main decorative piece. Race Course and Serangoon Roads are always decked up in candescence quite extravagantly.
Being one of the vibrant festivals in India, Singapore is preparing for Diwali, falling on November 4 this year, with light-ups that began on the 25th of September. Reminiscing the architecture of South India, the decorations include lighted gigantic peacocks, lotus flowers, oil lamps and idols of Mahalakshmi(the Hindu goddess of prosperity and wealth). 
A carnivalesque atmosphere to the festival is accorded through cultural performances that are held every year. Amidst the pandemic, this year the night bazaars were suspended along with restrictions on various activities. Dresses, including Indian traditional clothing, Mehandi, decorations, materials pertaining to rituals, handicrafts, artefacts, sweets etc are available at stalls opened for Diwali in Little India, a hub for the buyers to get their festival prerequisites.
A bunch of delicacies is offered in restaurants, especially north and south Indian specials. Earlier people used to come from India to open stalls, but not this year due to the Covid-restricted conditions and even the night bazaars have also been suspended. People visit the temple to worship the goddess Lakshmi (the goddess of wealth). One of the oldest religious sites in Singapore is the Sri Veeramakaliamman temple, built in 1855.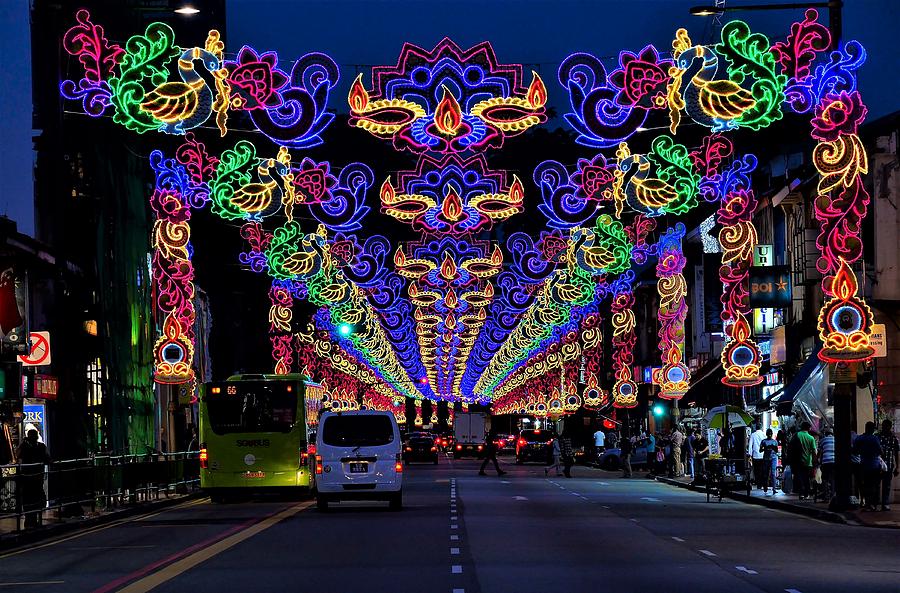 Similar to Chinese giving out money/special gifts to dear and near ones in envelopes during Chinese New Year calling it "ang pow", many offer "ang pav" during Diwali gatherings as well. In homes, Indians light diyas(small oil lamps) and exchange gifts and sweets and light firecrackers. Indian families invite their Singaporean and non Singaporeans friends to home to share the joy associated with the festive spirit. Many activities such as exhibitions, concerts, parades, social media competitions, heritage tours and treasure hunts are also organised. As a festival of new beginnings and an occasion to rejoice, this year the Diwali show in Singapore will be shot and aired on a Tamil language channel, Puthuyugam.