Hampi, a temple town in Karnataka and a UNESCO world heritage site, lies on the banks of the Tungabhadra River. In the 14th century, then capital of the Vijayanagara Empire, Hampi was known as a wealthy, prosperous and monumental city.
It was not only the world's second-largest medieval-era city but also India's most prosperous city back then. As the magnificence of this ancient city is still preserved in the majestic temples and the striking ruins, perched over a craggy landscape surrounded by lush banana plants, it is easy to be fascinated with this place for the first time visit.
Read More: Heirloom From The First Mount Everest Summit
Many backpackers choose to stay much longer than planned due to the relaxed atmosphere, slow pace of life and a wide range of available activities. It would probably take months to explore all the ruins in Hampi. When you get tired of visiting places with historical interests, you could enjoy the outdoors and go hiking or boulder climbing as the rocky landscapes are simply mesmerizing, especially for those who love adventures.
However, two days are enough to explore Hampi if you tend to visit only significant places.
Here's a 2-day one-night itinerary from my visit to Hampi last year before the outbreak of coronavirus.
Day 1
You can reach Hampi either by train or road. If you travel by train, the nearest train station would be Hospet junction, about 13 Km from Hampi. Hospet is well connected to Bengaluru, Mysore, Goa, Chennai, Hyderabad, Hubli and Tirupati. The city is also well-connected by regular buses to and from Bengaluru, Karwar, Goa and Hubli.
Once you arrive in Hampi, you can look for accommodation at a reasonable price. No prior booking is required as hotels are readily available in that area.
You can rent a bike or approach a local auto-driver to take you to the must-visit places of Hampi. However, I'd suggest you self-explore the sites by hiking, but before that, getting yourself a map as Google map isn't much help due to network issues.
Read More: God Made Random Access Memory
When you have a place to stay and have planned how to visit places, you can start your trip by seeing the below places on the first day:
Virupaksha Temple
Dedicated to Lord Shiva, the Virupaksha temple is one of the leading centres of pilgrimage in Hampi. The temple comprises a shrine, a hall with innumerable pillars, three antechambers, gateways, courtyards and a few smaller shrines. Having three towers, the nine-tiered eastern tower of the temple rises 50 meters. This tower had been built in the 15th century in such a way that an inverted
shadow of the tower falls on the western wall of the temple through a small hole. Virupaksha temple attracts huge crowds in December because of the marriage festivities of Virupaksha and Pampa.
Archaeological Museum
Located 350m away from Sri Virupaksha Temple, the Archaeological Museum consists of sculptures and antiques from different times. The museum has four sections. The first section contains two scaled models of the Hampi topography alongside monuments and temples.
The second section houses a comprehensive collection of sculptures and idols gathered from the Hampi ruins.
The third section ranges a collection of arms, coinage, tools, metal objects, and other famous artefacts during the reign of the Vijayanagara Empire.
In the fourth section, you will discover numerous antiquities that takes you back to the pre-historic and photo-historic era.
Vijaya Vittala Temple
Your visit would remain incomplete without visiting this structure. The most popular and grandest of all structures in Hampi, the Vittala Temple is dedicated to Vittala, an avatar of Lord Vishnu. The sprawling campus illustrates iconic structures like the main temple, a stone chariot, pillared pavilions, halls and gateway towers. Built in the Dravidian style of architecture, this temple exemplifies the enormous creativity and architectural grandeur possessed by the sculptors and artisans of its empire.
The chariot in front of the temple houses is a shrine dedicated to the eagle God, Garuda.
Rs 60 will ensure your entry to the Vijaya Vittala temple. You wouldn't wish to miss visiting such an extravagant architectural masterpiece.
Coracle Ride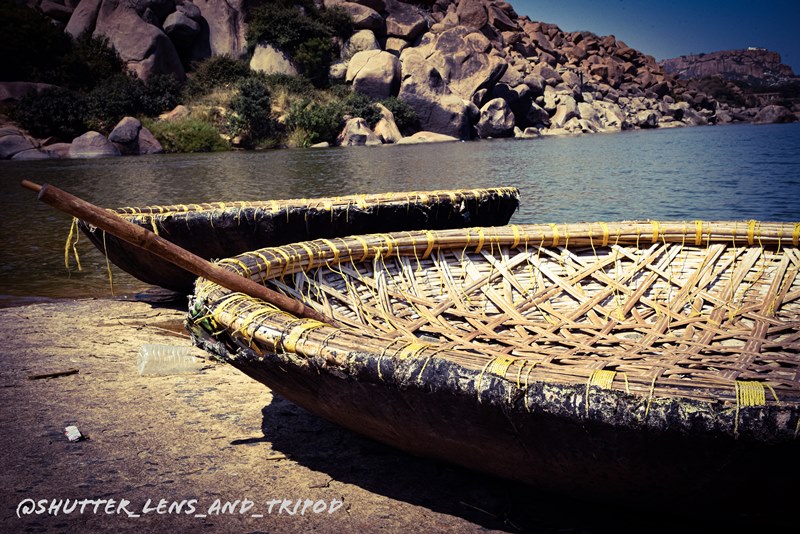 Coracles, also known as Dongis, are round boats typically used to ferry people and livestock across rivers. The coracles of Hampi are made of bamboo and plastic. You would not wish to experience this ride if you want to experience something different yet adventurous and enjoy a mesmerizing view. As you glide through the water, you will notice several rock-cut temples on both sides. Perched atop boulders or carved into caves, these temples draw attention. You will notice stairs at many places, which are the spots where you can descend and explore. You will also see big holes in the boulders as you cross them. Hence, a coracle ride must be on your list during your visit to Hampi.
Hampi Bazar
If you're tired and it almost gets dark, don't forget to enjoy the sunset as Karnataka offers the most beautiful skies during dusks. Post that, you can wrap up your day by shopping from Hampi Bazar on your way back to the hotel or home-stay. Located in the Virupaksha temple, this market stretches for more than 1 kilometre offering precious stones, jewellery, silk clothes, embroidered bags, shawls.
Day 2
Queens' Bath
Start your second day by visiting Queens' Bath that has a large sunken open-sky bath in the centre. Spread across 30 sq. meters, the rectangular bath is surrounded by a big verandah (extended balconies) decorated with tiny windows and supported by lotus bud tipped brackets and carved domes.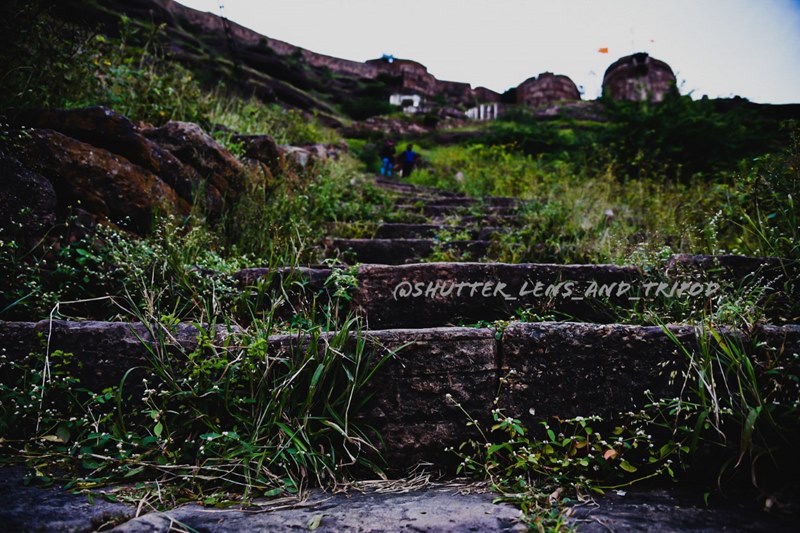 Lotus Mahal
The Lotus Mahal is located inside the Zenana Enclosure, which was the residential area of the queens. Only lady guards and maids could enter this premise. The Lotus Mahal is named because of the top view of the structure that resembles a lotus flower. This two-storeyed building is a fine example of Indo-Islamic architecture.
Elephant Stables
A stone's throw away from Lotus Mahal lies this impressive long building with a row of domed chambers, which was used to 'park' the royal elephants of the grand Vijayanagara Empire. The Elephant Stables building looks symmetric concerning a central hall. Inside the building, a central hook is embedded in the ceiling of the main dome used to hook the elephants. The hidden staircase inside it is used to take people to the roof of the building.
Other than these, you can also visit Hazara Rama Temple, Stepped Tank, Malyavantha Raghunatha Temple etc., if you have time.
You can thus wrap up your trip and board a bus back to Bengaluru. From there you can choose your next destination.