The ratio of girl students is dropping significantly in institutes of national importance. At the same time, female participation in professional courses is lower in contrast with academic courses, according to the All India Survey on Higher Education (AISHE) 2020-21.
The survey has considered as many as 1,019 universities, 39,955 colleges and 9,599 stand-alone institutes.
There is an overall growth of around 18% of female share in higher education between 2015-16 and 2019-20, said the report released on June 10 by the Union Education Ministry.
"Over the past five years from 2015-16 to 2019-20, there has been a sharp increase of 11.4% in the student enrolment," the report pointed out.
"The rise in female enrolment in higher education during the period is 18.2%. "
"Gender Parity Index (GPI) in higher education in 2019-20 is 0.01% higher in comparison to 1.00 in 2018-19 indicating an improvement in the relative access to higher education for girls of eligible age group compared to boys," the report added.
The number of female students is lowest for institutes (2,499) under state private open university followed by institutes (3,702) under state legislature act. At the same time, the contribution is highest in-state public universities, as per the survey results.
"Participation of female students is lowest for institutes of the national importance of 24.7% followed by deemed universities government of 33.4% and the state private universities of 34.7%, wherein the share of female students for institutes under State Legislative Act is 61.2%," it said.
"Enrolment of female students in-state public universities is 50.1% and in central universities, it is 48.1%."
The survey also discovered that female participation in professional courses like BCA, BTech, BBA and BE is lower than undergraduate and postgraduate academic courses such as MA, MSc and MCom over the past 5 years.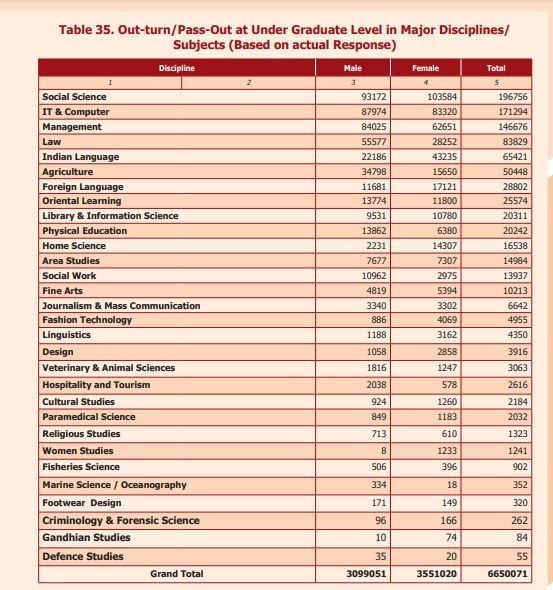 The slightly higher participation of male enrolment of students has also been observed across levels in most states.
With the highest share of student enrolment, Uttar Pradesh accounts for 49.1 male and 50.9% female participants, whereas Maharastra holds the second-highest position with 54.2% male and 45.8% female students' enrolment.
After that, Tamil Nadu has 50.5% male and 49.5% female students, followed by Rajasthan, who participates in 52.2% male and 47.8% female students.