Guess what? It's a vehemence for many; it's a dish that guarantees 100% happiness for many, but some enjoy preparing it for guests as it reflects a great deal of hospitality, and of course, it is a hardcore non-vegetarian cuisine. By now, many of you must have guessed the answer; yes, we are talking of the most heartwarming dish, "biryani", satisfying our hunger for centuries.    
Read More: Panta Bhat: A Delicious Offering With Healing Qualities
The journey started from Persia. Holding the hands of Mughal, it reached India on our plate. The word Biryani is derived from the Persian word Brian, which means "fried before cooking". Various stories unfold around Biryani, yet the most admired one relates to Mumtaz Mahal, one of the wives of Shah Jahan. The queen found out that the armies of the empire looked weak and malnourished while visiting their barracks. She asked the royal chef to provide a balanced diet to the soldiers, consisting of meat and rice. Another legend affirms that it was introduced to Indians by the Turkish-Mongoloid invader Taimur. The Nizams of Hyderabad and Nawabs of Lucknow appreciated this delicacy and adopted it in their imperial kitchen.
Well, it's time to set sail on a journey to know its varied types after being aware of its origin and history. Biryani gained fame and started absorbing local flavours; 12 varieties of Biryani are being cooked inside the Indian kitchen.
Hyderabadi Biryani
Once a dish of the Nizams soon became popular with the taste buds of the commoners. It is characterised by its inclusion of Zaffran and unique cooking style of mixing the meat and rice that gives the aroma and taste which is heavy and a lot more spicy.    
Lucknowi Biryani
An amazing version from the land of Awadh that distinguishes itself by its delicate flavour and rich fragrance. The preparation signifies separately cooking the meat and rice and then layered in a pot which is slowly cooked on low flame. Every grain of the rice may look subtle; however0, it will burst with flavour if cooked with perfection when put inside your mouth.    
Calcutta Biryani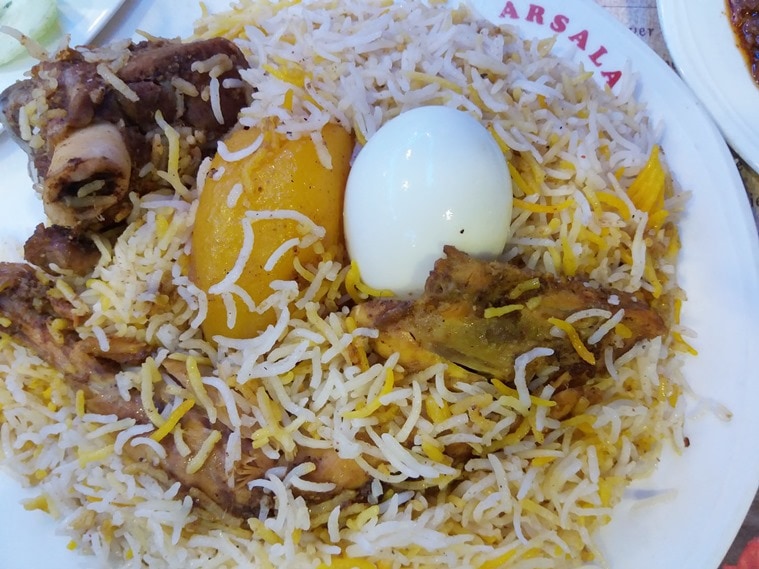 Calcutta style or Kolkata Biryani is significantly less oily, spicy and remains light along with big chunks of potato. It has a connection with the Lucknow style, as the Awadh's last Nawab, Wajid Ali Shah who brought his personal chef with him and was later exiled in Calcutta around 1856.   
Thalassery Biryani –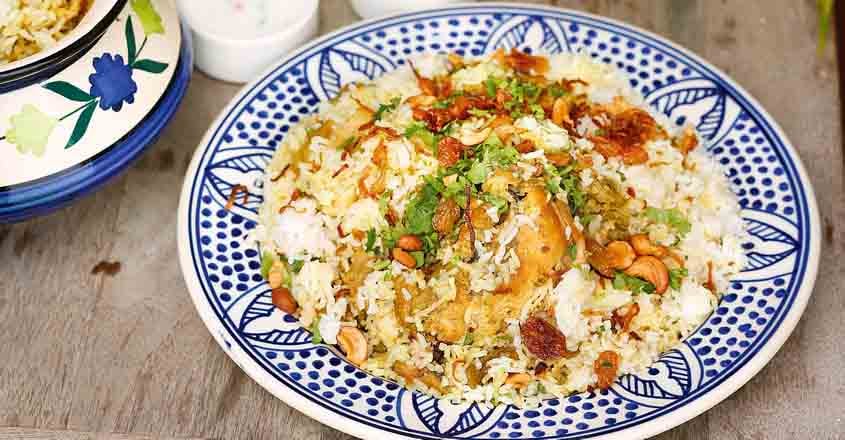 Thalassery or the Tellicherry Biryani is from Kerela, which is a fusion of many styles that evolved in the northern coastal part of God's own country. Unlike Basmati, it uses a special variety of small grain rice called Khaima rice which delivers its own aroma. The technique is a blend of Arabian, Persian, Indian and European styles for its maritime connection in the region.    
Bombay Biryani –
This unusual Bohari Biryani has the aroma of a sumptuous preparation but delivers a mixture of spicy, sweet and sour taste when eaten. The inclusion of Plum and potato is visible, and the scent of Kewra water is very much dominant.   
Sindhi Biryani –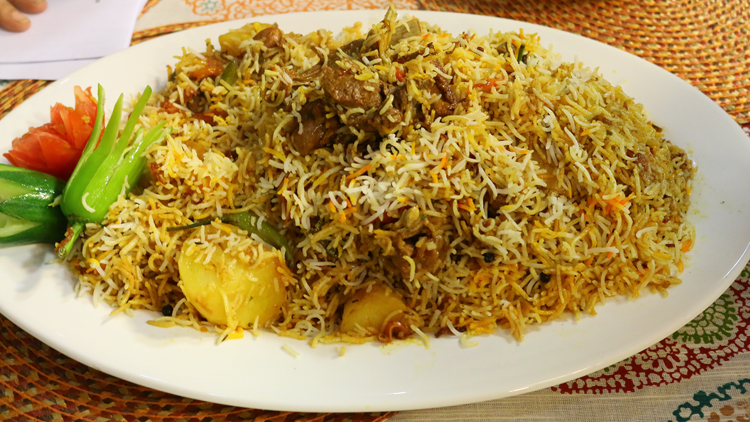 The name signifies its origin in the Sindh region in present Pakistan, but that doesn't refrain the people of India to relish the Sindhi Biryani. Here the meat gravy and rice are combined while serving or at least in some heated vessel so that it mixes well, and the use of dried prunes and potato cubes is observed and is usually spicy and zesty.    
Kalyani Biryani –
Kalyani Biryani is an extension of the Hyderabad style, also known as poor man's Biryani. The authentic version uses small cubes of beef or buff, excess of tomato, onion and the regularly available spices at home.    
Dindigul Biryani –
This version of Biryani from the region of Dindigul, Tamil Nadu, stands alone and different from others in terms of its sour taste and rice quality. It uses both lemon and curd while marinating meat that gives the extra sour twist; the use of Chamba rice helps to keep it a breed apart.   
Ambur Biryani –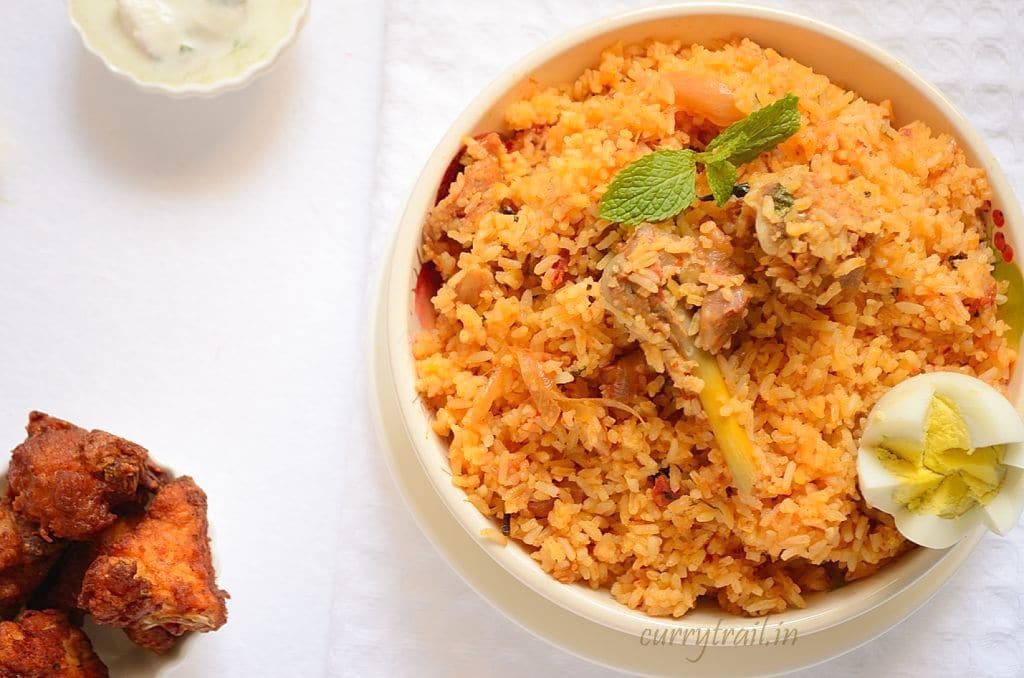 Flourished during the era of Nawab of Arcot (which is present-day bordering areas between Chennai and Bangalore). It also uses a distinct short-grain Jeeraga Samba rice, and this Ambur Biryani has no history of using any powdered spices except the use of few whole spices.    
Kashmiri Biryani –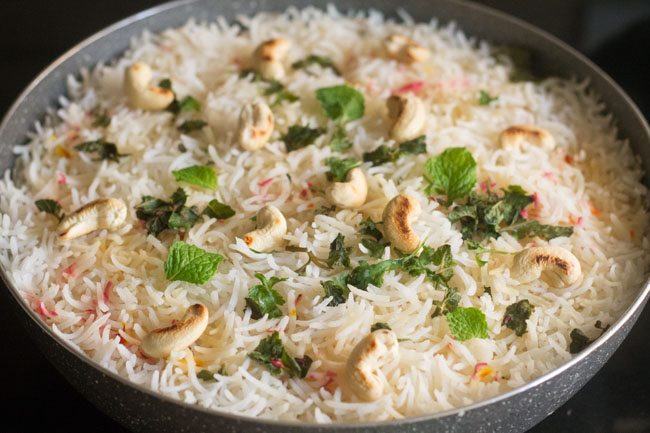 Practiced and carrying forward the legacy by the Kashmiri pundits with an influence from Uzbekistan. A dish like any Persian-Mughal style preparation of Biryani but with the addition of dry fruits that gives a slightly sweet taste and use of asafoetida compliments the flavour of other spices.    
Moradabadi Biryani –
A popular style of Biryani that has its roots from the Awadhi Lucknow style is a quick and simple recipe with a strong flavour of green chillies. Due to its simplicity and ease of cooking, it earned great commercial value in the northern belt of India.   
Tehari Biryani –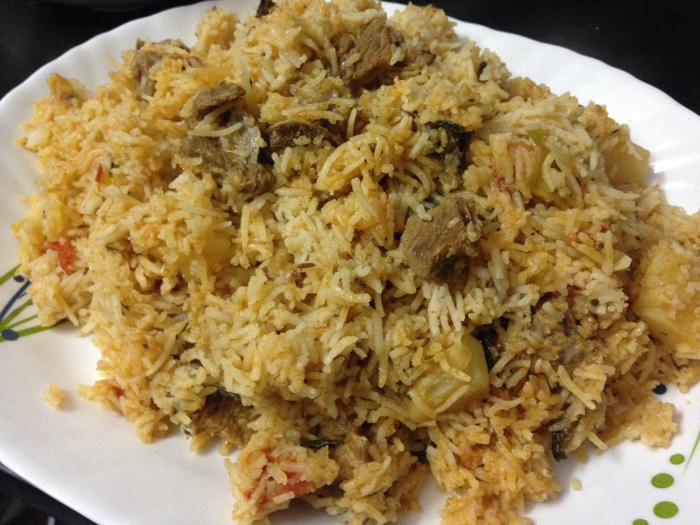 A biryani for vegetarians tries to imitate the style of preparing Biryani by excluding the meat out of it. It was an alternate one-pot meal indebted to the vegetarian employees of the Nawabs of Awadh, who had no history of eating meaty Biryani or non-veg food in their household.    
Overall the Biryani culture is seen to vary in different geographies, much like our contrasting diversity as per the taste buds of that region. No matter what ingredients are used, the technique is either Kachha, where meat is raw and goes together with rice or Pakka, where meat and rice are cooked separately and then mixed together.
The tussle between the duo, meaty Biryani and vegetable biryani, is damn interesting to see where undoubtedly the winner is not the vegetarian version.