With tens of thousands of tourist destinations from Kashmir to Kanyakumari and Northeastern states to Gujarat, India has always been a fascinating country for travellers worldwide. But, this incredibly diverse South Asian country has many unusual places which the travellers less explored.
Roopkund in Uttarakhand, Loktak Lake in Manipur, Living Root Bridge in Meghalaya, Rameshwaram in Tamil Nadu, Magnetic Hill in Ladakh, Chandipur Beach in Odisha, Bibi ka Maqbara in Aurangabad etc. are few among such destinations.
Here are just some of the highlights.
1. Roopkund in Uttarakhand
Roopkund is a glacial lake at an altitude of 5,029 meters, and snow-laden mountains and rock-strewn glaciers circle the lake, and for most times of the year, it remains frozen.
To trek to Roopkund, you first need to reach Lohajung. The trek starts from Lohajung (7,700 ft), 230 km from Kathgodam. The route to Lohajung is via Almora — Gwaldam — Tharali — Debal — Mundoli — Lohajung.
This lake carries a mystery that 300 odd human skeletons are buried under this frozen lake. When the snow melts, you can actually witness this. These skeletons are dated back to the 9th-century. A deadly hailstorm took the lives of the then King of Kanauj and his entourage, who were on their way to a pilgrimage site.
2. Loktak Lake in Manipur
Have you ever visited a lake with floating biomass? If you want to witness such mesmerising scenery, Loktak Lake in Manipur is open for you. Loktak Lake is the largest freshwater lake in North East India and is located in Manipur.
The lake is famous for the floating phumdis (heterogeneous mass of vegetation, soil and organic matter at various stages of decomposition) over it. The Manipur river feeds Loktak Lake along with several tributaries. The river has also been known as Manipur state's lifeline, as it serves as a source of water for hydropower generation, irrigation and drinking water supply.
Read More: Loktak Lake and Floating biomass
3. Living Root Bridge in Meghalaya
The Living Root Bridges lies in West Jaintia Hills and East Khasi Hills of Meghalaya. These mesmerising bridges have been made of rubber tree roots. Such bridges last hundreds of years, and it takes about 15 years to build and get them stronger.
4. Borra Caves in Andhra Pradesh
Borra Caves are in the Ananthagiri Hills of the Araku Valley, and about 63 lamps illuminate the caves. Borra caves are one of India's largest and deepest caverns, with 2,313 feet (705 meters) in height and 260 feet (79.2 meters) in depth. Stalactite, stalagmite, and natural mineral formations give this illuminating effect to the caves
5. Rameshwaram, Tamil Nadu
Rameshwaram is being considered one of the most sacred places in India. It is believed that Vanara Sena of Lord Rama constructed a floating stone bridge (called, Ram-Setu) across to Sri Lanka, and these stones never sank; instead floated on the water. You could find these 'floating stones' in Rameshwaram, and in fact, it is the main tourist point in the town.
6. Magnetic Hill, Ladakh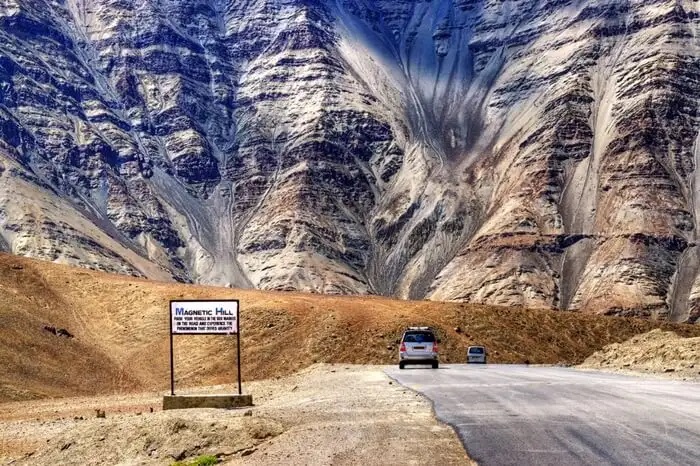 The Magnetic Hill, located at an elevation of 3,352.8 meters, is known as India's one of the most unusual places. The hill is known for its magnetic properties pulling a vehicle uphill, even if the ignition is turned off. But, this phenomenon is the result of an optical illusion created by the hill's gravitational force. This unusual and thrilling phenomenon made this place on the list of adventurists.
7. Chandipur Beach Odisha
Chandipur beach is known as the Hide and Seek beach since the seawater recedes up to three miles during low tide and returns back during high tide. This is so unique to this beach and happens every day.
8. St. Mary's Islands, Karnataka
The rocks here aren't regular ones, but these are formed because of volcanic eruptions. These 'hexagonal-shaped basaltic rock' make them unique. It is situated in Malpe, Udupi district of Karnataka and is accessible only via boat from Malpe fishing harbour.
9. Hogenakkal Waterfalls, Tamil Nadu
Hogenakkal Waterfalls, knowns as Niagara Falls of India, gushes down into the Kaveri River and consistently awes tourists with its grandeur and beauty. The carbonatite rocks present here are the oldest in South Asia and amongst the oldest in the world.
10. Bibi ka Maqbara, Aurangabad
Bibi ka Maqbara is a replica of the majestic Taj Mahal. In the 17th century, Mughal Emperor Aurangzeb had commissioned the Maqbara in memory of his wife. It is also known as the 'Taj of the Deccan' since its appearance resembles the original Taj Mahal. But the size is smaller than the original. The most magnificent sight is that the marble colour of the mausoleum changes to orange and pink when the sun goes down.