The freshly washed banana leaf is placed, sparkling with all kinds of dishes. You break a piece of the papad and begin a memorable meal. The meal is called Sadhya, the festive feast of Kerala.  
A major annual event for Keralites, Onam, also known as Thiru-Onam or Thiruvonam, is a harvest festival of Kerala that celebrates the return of the legendary King Mahabali by organising a grand feast, also known as Onam Sadhya. Malayalees across the world celebrate August 21 as Thiruvonam.
Sadhya or Onasadya is a traditional multi-course vegetarian meal of over 25 dishes served during the ten-day-long Onam festival. The spread is prepared in giant urilis and served on a banana leaf.  
The banana leaf is placed, so its narrow portion always points to the left side. Sadhya is served from the top left corner of the banana leaf. A small yellow banana, sarkara upperi (shakkar paras), papad, mango pickle, injipuli (a thick ginger tamarind curry), lime pickle, thoran, olan, avial, pachadi, kichadi, Erissery (a pumpkin chori bean combination) and salt are placed in order.  
Sadhya is a combination of fried snacks, various curries cooked with seasonal vegetables like yam, cucumber, ash gourd, etc., pickles, sweets served with red rice. The traditional meal is meant to be relished with hands.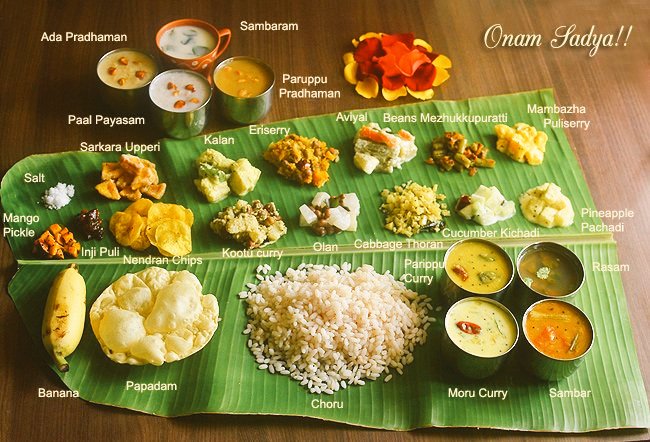 Below is a list of the items included in the meal:
Chor is rice but, on Onam, red rice is served with ghee.
Parippu Curry, a velvety and light curry prepared from yellow moong dal with coconut.
Morru Kachiyatha is a yoghurt dish seasoned with herbs and shallots.
Inji Thayir is cooked with yoghurt, black sesame seeds, spices and ginger. In most Malayali households, Inji Thayir is prepared first in the days leading to the 10th day of Onam.
Avial is a traditional mixed vegetable dish cooked with yam, potatoes, carrot, raw banana, beans, drumstick, bottle gourd, eggplant curry leaves, coconut paste, coconut oil and curd. Although it's a Malayalam cuisine, it's also served in regions of Tamil Nadu and Karnataka.
Chena Mezhkkupuratti is a yam dish where the vegetables are cut into thin slices, boiled spices, and later stir-fried in coconut oil.
Eriserry that includes pumpkin, red beans, and coconut has all the right flavours.
Pachadi is another yoghurt-based dish that is made with vegetables, coconut, ginger and curry leaves.
Thoran, crunchy beans, is a staple Malayali food item cooked with vegetables available in the kitchen, and they are stir-fried with grated coconut.
Olan is a classic dish prepared in coconut oil with white ash gourd, black-eyed peas, coconut milk and ginger.
Kalan is a signature dish made with yoghurt, yam or raw banana and grated coconut.
Sambhar is an essential dish of Onam Sadhya. It is a lentil-based vegetable dal curry cooked with tamarind water.
Rasam, a spicy tamarind soup sprinkled with curry leaves, mustard and tomatoes.
Manga Curry and Naranga Curry, two types of pickles in any Onam sadhya, tickle your taste buds with some tangy twist of some fantastic spices.
Poppadom is papads made from rice flour.
Sharkara Varatti is banana chips, but it tastes sweeter as it is made of jaggery, herbs and other spices.
Paal Ada Pradhaman is a type of payasam made with pasta.
Pazha Pradhaman is another payasam prepared with ada rice, thin coconut slices, jaggery and cashew nuts.
Celebrate this Onam by indulging in the grand feast and relishing some flavourful and delicious dishes of Sadhya. We wish you a happy Onam!