Gulf countries have historically been convenient destinations for Indian migrants. Over 8 million Indians live in the Gulf Cooperation Council (GCC)- Bahrain, Kuwait, Oman, Qatar, Saudi Arabia and the United Arab Emirates. 
Read More: Kerala Gets 14% More NRI Deposits During The Covid Scourge
Indian migrants have dominated various industries in the GCC, accumulating wealth, status, and several accolades. Their tremendous success has contributed immensely to both their country of residence and their motherland. 
Here are a few notable figures who have been playing inevitable roles in the GCC regions. 
Dr Azad Moopen – Aster DM Healthcare
Moopen, a native of Kerala, migrated to the UAE in 1987, establishing his own small clinic. In 34 years, the single doctor clinic has evolved to become one of the largest healthcare providers in both India and the GCC, with around 20,500 employees, including 3000 doctors. 
With a current net worth of $1 billion, Moopen allocates 20% of his wealth for his philanthropic activities. He is the founder of Aster DM Foundation, Dr Moopen Family Foundation and MIMS Charitable Trust. He also launched 'Asters Volunteers', an initiative focusing on the welfare and health of communities in India, the Middle East and Africa. He has constructed dialysis centres, cancer screening and radiation oncology centres, free pediatric and adult cardiac surgery programmes, subsidised surgical treatments for the underprivileged in Africa and Asia.
He is the current Chairman of Aster DM Healthcare and National Committee on Healthcare and an Executive Board Member of Social Advancement Foundation of India.
Moopen is a recipient of Padma Shri and Pravasi Bharatiya Samman, among 13 other achievements and titles.
MA Yussuf Ali – Lulu Group International
Yussuf Ali, another native of Kerala, left for UAE in 1973 to join his uncle, the founder of Lulu Group of Companies. He established Lulu Hypermarket in the early 1990s. Since then, the group has inaugurated more than 100 stores and own several malls across the GCC and India. The group has over 40,000 employees from 37 countries, out of which 25,000 are Indians.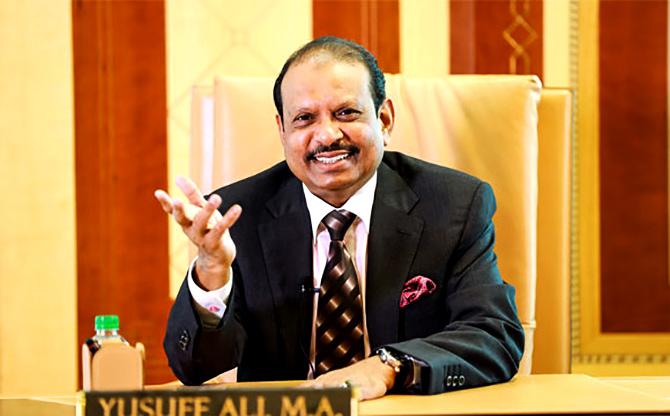 He is one of the wealthiest Indians in the GCC Region with a net worth of $4.5 billion. A well-known philanthropist, his activities spread across the Middle East and India. He donated Rs 145 million to flood victims of Kerala in 2018 and 2019, constructed places of worship and funeral centres for all kinds of faith in UAE, and adopted schools in Gaza and Nepal with Dubai Cares. 
Yussuf Ali is a recipient of Padma Shri, Pravasi Bharatiya Samman and Abu Dhabi Award, among nine other achievements and titles. 
Sunny Varkey – GEMS Education
Varkey was born in Kerala to educators who migrated to the UAE in 1959. Following the migration boom in Dubai after discovering oil, his parents founded Our Own English High School, one of the oldest schools in Dubai. He assumed the operation of the school in 1980. Over the years, he opened several other schools of various curriculums to accommodate ex-pats of different nationalities. 
In 2000, Varkey established Global Education Management Systems (GEMS). They are the largest operators of schools globally, managing 70 schools in over dozen countries across the Middle East, India, Southeast Asia, Europe, Africa, and North America with over 400,000 alumni and 119,000 students worldwide.
In 2010, he founded Varkey Foundation, a philanthropic branch of GEMS inaugurated by former US President Bill Clinton. It aims to aid 100 underprivileged children for every student enrolled at GEMS schools. Contributions include initiating worldwide teacher training programs, constructing schools and learning centres, and advocacy programs. In 2011, the foundation joined hands with UNESCO and the UAE Ministry of Education to form the Global Education and Skills Forum.
Varkey is a recipient of Padma Shri and Rajiv Gandhi Award for Eminent Educationist, among eight other achievements and titles. He is also a UNESCO Goodwill Ambassador since 2012. 
Dr Raghavan Seetharaman – Doha Bank
Seetharaman, a Tamilian native, began his career at PricewaterhouseCoopers, one of the big four accounting firms in the world. In 2002, he was appointed as the CEO of Doha Bank, one of the largest commercial banks in Qatar and the GCC. Under his leadership, the bank has expanded to other countries such as UAE, India, Singapore, China etc. 
He was ranked 6th in Forbes' Top Indian Leaders in the Arab World 2015. He is also a recipient of 6 doctorates.
Ravi Pillai – RP Group 
Pillai, son of a Malayali farmer, migrated to Saudi Arabia in 1978. With a business partner, he founded RP group specialising in construction and infrastructure. The company presently has a revenue of $7.8 billion. They are one of the largest employers of Indian nationals in the Middle East.
Pillai invests his wealth in his home country, owning stakes in banks, hotels, and real estate.