For a bibliophile or a book worm, nothing can be more satisfying than leaving them in a room with a dozen of novels or books. And if they get a cup of tea, coffee or their preferred beverages, their day is made. When two bibliophiles meet, it becomes effortless to find out their area of interest. You will see them excitedly talking about several books for hours without getting tired. There are not only numerous book clubs but also a dozen of bookstore cafes that welcome people with an in-house library as well as a variety of beverages.
If you belong to this community, you must check in to these bookstore cafes across India.
Champaca Bookstore Library & Café, Bengaluru
Located in the heart of Bengaluru, Champaca is an independently-owned women-run bookstore and café. When you enter the bookstore cum café, you'll notice a metal staircase leading up to a space filled with natural light coming in through large windows. This charming library features fiction, non-fiction, the social sciences and history, science fiction and graphic novels. Additionally, on their shelves, you will find books about caste narratives in rural India, dystopian futures where people perform abnormal activities. Interestingly, this library also welcomes children up to the age of 12 years. Moreover, they host events every week both online and offline which are free and open to everybody.
Its café offers a wide range of menus comprising tea, coffee, tea cakes, sandwiches, juices, fresh salads, etc.
Location: 7/1, Edward Road, Vasanth Nagar, Bengaluru
Timing: 11 am to 7 pm, from Tuesday to Sunday. Closed on Mondays.
Oxford Bookstore and Cha Bar, Kolkata
Opened in 1921, this iconic bookstore on Park Street is still buzzing with activities but has gone through a lot of changes. Today, with stores in major metros, Oxford Bookstore offers book lovers access to books, visual & performing arts and celebrate the word by hosting a variety of events. India's first-of-its-kind tea boutique, Cha Bar curates multiple literary festivals such as Apeejay Kolkata Literary Festival, Apeejay Bangla Sahitya Utsob and Hindi Sahitya Utsav.
Besides, Cha Bar hosts its guests not only with an exclusive range of Darjeeling, Nilgiri, Sikkim and Oolong but also offers Flowering Teas, Organic Teas, Herbal Teas, Diet Teas, Fruit Teas, Bubble Teas. To complement the collection of Teas, Cha Bar serves a wide selection of Ala Carte savories like the Mediterranean salad, classic Caesar with a choice of dressings, Scrumptious finger foods such as chilli cheese toasties, cha piazi, and fish and chips, etc.
Location: 17, Park Street, Kolkata
Timing: 11 am to 9 pm
Full Circle Book Shop and Café Turtle, New Delhi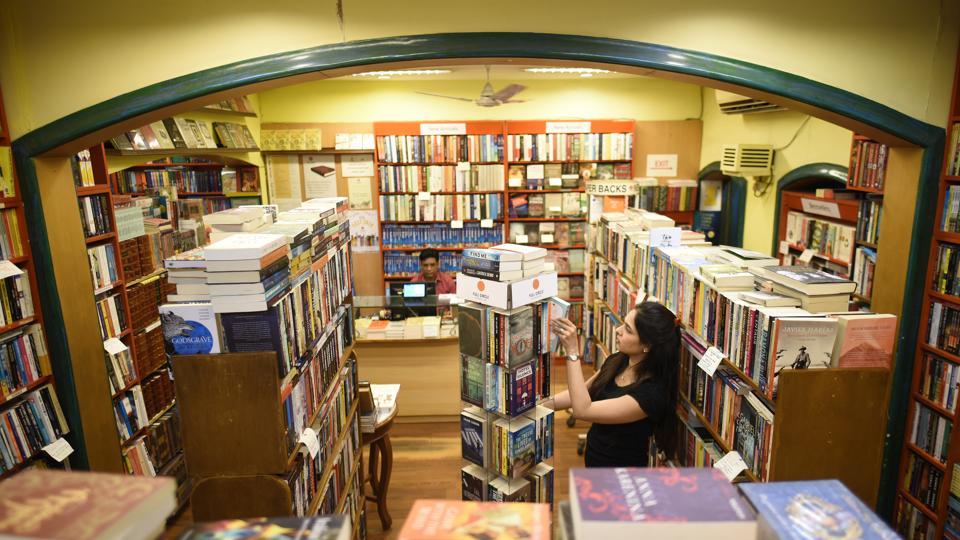 One of the national capital's most-beloved bookshops, Full Circle Book store treats bibliophiles with physical browsing of bookshelves, personalised recommendations and convenient corners to read. The in-house library is stocked with fiction and non-fiction books. With sections divided as per the age groups, it also offers plenty of books to the children. 
Located on the floor above, Café Turtle complements the bookstore very well with food offerings like salads, soups, pizzas, pasta, sandwiches, desserts. You can grab hot and cold beverages from the café and indulge yourself in a book.
Location: 23, Middle Lane, 1st and 2nd Floor, Khan Market, New Delhi
Timing: 8.30am to 8.30pm
Literati Bookshop and Café, Goa
Located in Goa's famous beach town Calangute, this bookstore cum café envelops you in a cheerful embrace the moment you step in. With a bright, airy and cozy atmosphere, it powers you to browse through the bookshelves featuring fiction and non-fiction books by domestic and international authors. Notably, they have a section dedicated to old editions and antique books. Literati Bookstore also runs a book club and holds literary meetings, film shows etc.
Its outdoor café has a limited yet drooling menu that consists of hot and cold beverages, cakes and sandwiches. When you enter the café, you will see the day's specials written on a blackboard.
Location: E/1-282, Gauravaddo, Calangute, Bardez, Goa
Timing: 10 am to 6.30 pm, closed on Sundays
The Bibliophilia Café, Guwahati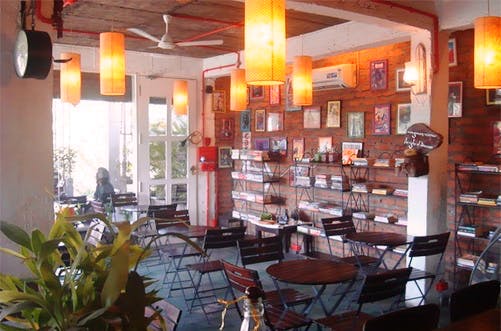 Popular among bibliophiles across Assam, The Bibliophilia Café has been in the business since 2012. Opened as Starling Bookstore cum Library, the Cafe accumulated fame throughout the Northeast and India. However, this popular bookstore owned by Imran Hussain in Panbazar was closed but reopened on 1st January 2020 with the motto of 'profit for purpose. It's a place where book lovers forget everything and rejoice in the company of books. From framed pictures of famous authors to posters of eminent people, its tall racks are stocked with books lending the same old-world charm.
The foods offered by the café are added attractions as they serve sandwiches, fast foods like french fries, burgers, pizzas, Chinese cuisines and a variety of beverages at a reasonable rate.
Location: Jasowanta Road, Panbazar, Guwahati
Timing: 11 am to 8.30 pm
Kitaab Khana, Mumbai
This boutique bookstore in the heart of South Mumbai is unique and fascinating. Kitaab Khana is accommodated in a heritage building and standing tall for over 150 years now. With an abundance of books focused not only on best-sellers but also the ones instrumental in satiating and enriching your flair for reading, KitabKhana is every bit a book lover's delight. Its book racks offer books and literature in English as well as in regional languages, like Hindi, Gujarati and Marathi. The store regularly conducts book readings, authors' meetups and other literary events.
The attached café of Kitaab Khana serves a comprehensive vegetarian menu comprising fresh salads and sandwiches, piping hot pasta, delightful desserts and coffee.
Location: 45-47, Ground Floor, Somaiya Bhavan, MG Road, Flora Fountain, Mumbai
Timing: 10.30am to 7.30 pm, closed only on Jan 26, May 1, Aug 15, Oct 2